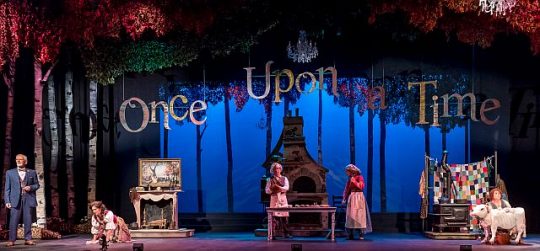 4 stars
Music Theater Works in Evanston has put together a visually stunning production of Stephen Sondheim's fairy-tale musical mashup, "Into the Woods."
The opening tableau is like the first page of a richly illustrated children's picture book that literally sets the stage for the primary characters.
Stage right is Cinderella (Kelly Britt) tending to the fire; center stage is the Baker (Daniel Tatar) and his wife (Alexis Armstrong) in their kitchen; and stage left is Jack (Christopher Ratliff) of beanstalk fame with his mother (Anne Marie Lewis) and cow Milky White (Milky White).
Behind the vignettes are the slightly ominous birch tree "woods" accented against a deep blue twilight sky hung with the words "Once Upon a Time." But of course, this is not your child's version of the stories presented.