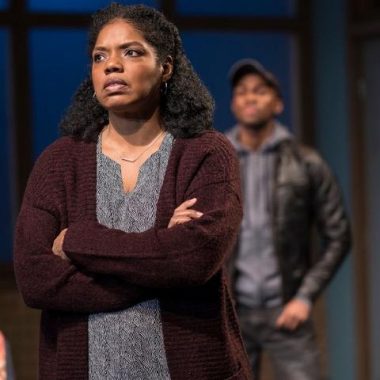 2 1/2 stars
In 90 short, uninterrupted minutes, playwright Dominique Morisseau lays out how the direct route from school to prison has become the American norm for young, black men. That is, if they're not being gunned down by some trigger-happy police officer.
This is the hopeless existence depicted by the playwright of such important dramas as "Sunset Baby," "Skeleton Crew" and the upcoming musical, "Ain't Too Proud—the Life and Times of the Temptations."
In director Cheryl Lynn Bruce's new production at Victory Gardens Theater, a topic the playwright explored in a solo documentary, "Notes From the Field," is starkly played out upon Andrew Boyce's sparse, flexible scenic design. It's a theatrical environment that wisely offers more focus upon the characters than the setting.
Tyla Abercrumbie, as Nya, commands the audience as a stressed out teacher at a crowded urban high school, a place where the security guards are just as important as the instructors. Coping with dozens of violent infractions every day is almost de rigueur.
Besides dealing with difficult students, Nya is a poorly paid, divorced single mother. She has tried hard to protect her teenage son, Omari, by getting him out of this dangerous environment and sending him to a private boarding school.
Now Nya has to address her son's recent personal problem, while enduring the overbearing bullying of her estranged husband, Xavier, a man who's been all but missing from his son's life.