Terrific songs, cast and staging should take 'Pretty Woman: The Musical' all the way to Broadway
HIGHLY RECOMMENDED
If you loved the 1990 romantic comedy movie starring Richard Gere and Julia Roberts, directed and choreographed by Garry Marshall, you won't be disappointed in the show turned into a musical. Pretty Woman: the Musical opened its world premiere at Broadway in Chicago's Oriental Theatre, March 28, complete with red carpet, flashing lights and New York and LA industry VIPS.
But it was the magic on stage wrought by Samantha Barks as Vivian, a Hollywood Blvd. upwardly-mobile-dreaming prostitute who knows cars, Steve Kazee as Edward, a heartless take-over mogul, Orfeh as Vivian's friend Kit and Eric Anderson as Mr. Thompson the friendly hotel manager of  the Regent Beverly Wilshire Hotel (also plays Happy Man, a Hollywood Blvd. denizen) that captured the audience's attention and got a well-deserved standing ovation.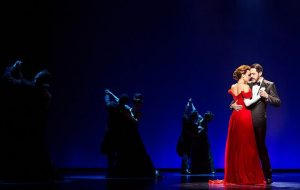 Directed by Jerry Mitchell, the musical moves seamlessly through memorable film scenes from bathtub singing to Rodeo Drive shopping.
Blessed with a book by Garry Marshall and the movie's screenwriter, J. F. Lawton, it closely follows the film, aping similar although not always the same lines.Read More