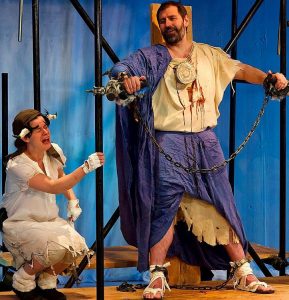 RECOMMENDED
"Prometheus Bound" at CityLit is a world premiere translation by Nicholas Rudall of the classic (which may or may not have been) written by Greek playwright Aeschylus.  Rudall is Professor Emeritus of Classics at the University of Chicago.
This was originally conceived as the first play in a trilogy. However, the other two are lost to history.
The title character, Prometheus (Mark Pracht),  a god,  is being punished by Zeus, for giving humanity the knowledge of fire and other "arts."  His punishment is being bound and pinned to a rock is for eternity in one of the far corners of the Earth.
Prometheus is visited periodically by a number of other gods who come to either further his torment or offer solace.