RECOMMENDED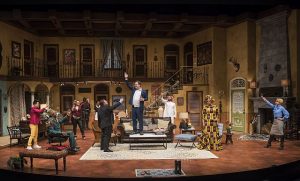 You know when you see a stage set with multiple doors that the play will likely be a farce. Steppenwolf Theatre Company's set of 'Doppelgänger,' a world premiere with the sub title of 'an international farce,' has all the elements needed to keep audiences  laughing, including 11 doors and another entrance.
Erlbach's presentation of global political, economic and social issues of today works superbly well as a farce.
Clever lines come so quickly and author Matthew-Lee Erlbach's obvious love of words so mesh in rhymes and tongue twisters that the first two hours speed by quickly.
No stereotype is spared from a hawkish general and a skinny, uptight  female British politician to an exiled African nation's former brutal president, a bisexual Arab prince and a buxom, Brazilian money launderer.