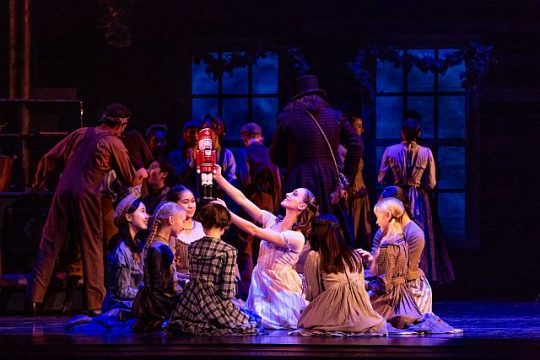 4 stars
Imagine what if. What if Marie Stahlbaum's nutcracker Christmas gift and her dream, a tale by E.T. A. Hoffmann, and adapted by Alexandre Dumas that was first presented with Tchaikovsky's music in 1892, changed location and style.
What if it moved from a wealthy, European estate to Chicago where dreams were possible for a young girl who lived in a shack. And, what if the story kept the late 19th century date.
What was going on in Chicago that year was preparation for the 1893 World's Columbian Exposition also called the Chicago World's Fair. It celebrated the 400th anniversary of Christopher Columbus'1492 landing in the "new world."  Indeed, the Chicago World's Fair dedication was in 1892 but the fair didn't open until 1893.
Imagine all the possibilities the fair with its multi-cultural pavilions and its noted (first) Ferris Wheel as a background might hold for a ballet.