HIGHLY RECOMMENDED
No question that opera goers and even many members of the general public are familiar with the music of Georges Bizet's "Carmen." Arguably less known is his earlier work, "Les pêcheurs de perles" (The Pearl Fishers).
Now appearing at the Lyric Opera of Chicago, the opera is particularly known for "Au fond du temple saint," my favorite duet for tenor and baritone. Its gorgeous, lyrical strains are delightfully repeated at the end of the opera.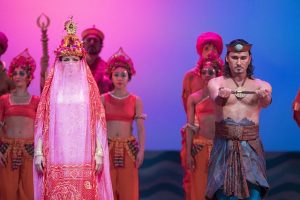 But, featuring Evanston born tenor Matthew Polenzai as Nadir, Polish baritone Mariusz Kwiecien as his friend, Zurga, and Latvian soprano Marina Rebeka as Leïla, the priestess both men love, what the Lyric production really accomplishes is to remind music lovers that the entire opera contains one beautiful aria after an other.
There is Polenzai's bravissimo rendering of "Je crois entendre encore" and Rebeka's passionate "Comme autrefois dans la nuit somber," then her duet with Nadir, "Léïla! Léïla!…Dieu puissant, le voilà!".
The production's charmingly bold sets and costumes, both designed by British fashion artist Zandra Rhodes, reflect the joyous, sunlit culture of an exotic Ceylon (now Sri Lanka).
Directed by Andrew Sinclair, the Lyric production was first staged at the San Diego Opera in 2004.
Comparatively short at two hours, 25 minutes including a 30 minute intermission, it is sung in French aided by English subtitles using a libretto by Michel Carré  and Eugene Cormon.
This opera, like many of the genre's plots, whirls around forbidden love and its consequences. The story pits two friends against each other as they grapple with the consequences of loving the priestess who is supposed to protect Ceylon fishermen from the island's treacherous waters. If she breaks her vow she could die and so would the man she loved.
When it happens and is witnessed by the high priest of Brahma sung by Italian bass, Andrea Silvesrtrelli, he decrees the lovers' death.
The orchestra led by Andrew Davis and the chorus under Michael Black were both superb. The only problem I had with the production were the dance scenes. They may be true to the culture but they detract from rather than add to the opera.
DETAILS: 'The Pearl Fishers' is at the Lyric Opera House, 20 N. Wacker Dr., Chicago, through Dec. 10, 2017. Running time: 2 hours, 25 minutes with one intermission.  For tickets and more information visit Lyric Opera.
The production, seen on Nov. 22, 2017, was dedicated to Siberian baritone Dmitri Hvorostovsky whose death by brain cancer was announced in London that morning.
Jodie Jacobs
For more shows visit TheatreinChicago.