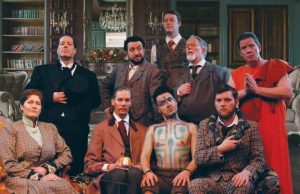 SOMEWHAT RECOMMENDED
There are enough politically incorrect attitudes in "The Explorer's Club" to offend anyone who isn't a member of a good old boys WASP (White, Anglo-Saxon Protestant) group.
So just remember if seeing the show, now playing at Citadel Theatre, that it is a farce about the kind of men's club (right, no females allowed) that would have felt comfortable during Queen Victoria's reign.
This club's focus is not wealth or lordship. It is for adventurers and scientists who seek glory with trophy killings, experiments and "discovery" of cultures to be exploited that have not yet been revealed in their part of the world.