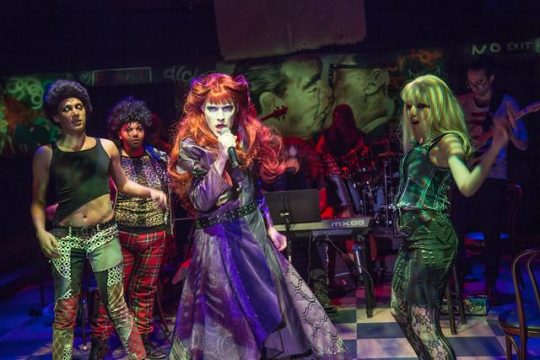 3 1/2 stars

First of all be warned. "Hedwig and the Angry Inch," may not appeal to every taste. Audiences who attend this four-time, 2014 Tony Award-winning musical should be comfortable with in-your-face performances, deafening rock music, blinding concert lighting and 95 minutes of adult humor and a brazenly bold backstory.
The theatergoer who considers Rodgers & Hammerstein or Lerner & Loewe the hallmarks of the American musical probably won't love a show that's this garish and loud. However, younger, less conservative audiences, as well as the many devotees of this cult musical, will find everything to love about Theo Ubique's finale to their first season, now playing in Evanston through July 28.
The show began as a modest little rock musical that told the story of Hedwig Schmidt, a young, queer, glam, rock singer who underwent gender reassignment surgery.