RECOMMENDED
'Trevor, the musical,' now in its world premier at Writers Theatre, is based on the story behind the Oscar winning short film that led to the Trevor Project, a suicide prevention/crisis intervention initiative for youngsters in the LGBTQ community.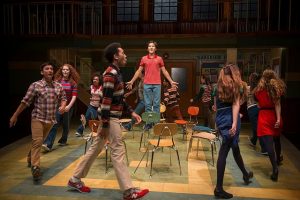 Set in 1981, it reflects the attitudes of the times but just as important, it reflects the kind of general adolescent bullying, cruelty, peer pressure and even parental inattentiveness and misunderstandings that still exists today.
That said, 'Trevor, the musical' showcases the amazing talent of Eli Tokash, a young Broadway ('Finding Neverland, 'Pippin') actor who performs with the grace and style of Fred Astaire,
Tokash as Trevor, wants to be writing, directing, choreographing and playing in musical theater in 10 years. But his current goal as a 13-year-old in his last year of a suburban junior high, he wants to perform in the school's annual talent show or direct the eighth grade football team in a dance number he devises.
It's acceptable to Pinky, the team's captain, perfectly portrayed by Declan Desmond as a guy who would rather dance a Fred Astaire type number than parade around in a pink tutu that past teams had to wear for the show.
While working with Pinky, Trevor realizes he has a crush on the football star. Also, while trying to prove he likes girls, he goes to a smooching spot with Cathy, delightfully played, glasses, braces rubber bands and all, by Tori Whaples.
As they try to kiss, Trevor realizes he isn't interested even though Cathy is.
The kicker that throws his life into suicide mode comes when his best friend, Walter, nicely acted by Matthew Uzarrage, gives Trevor's journal to Mary (Eloise Lushina). She reads Trevor's notes about Pinky to her friends and gives the journal to the football team.
Trevor fantasizes about his funeral. He wants Diana Ross' "Endless Love" to be playing.
Although not really a jukebox musical because many of the songs are by Wick Davis (music) and Dan Collins (book and lyrics), the show spotlights Trevor's adoration for Ross' music and philosophy.
Performed beautifully by the talented Salisha Thomas ('Beautiful: The Carole King Musical,'  vocalist for Disney) she sings many Ross hits  throughout the show beginning with "Do You Know?"
"Beautiful" director Marc Bruni has brought his seamless touch to this production which has aspirations of moving on to Broadway. Expertly choreographed by Josh Prince (also "Beautiful") it likely will get there.
However, given the seriousness of its theme, at a mere two hours and 10 minuets, there is room to expand the tension surrounding the teens, adults and anyone who doesn't fit the attitudes and models of the times.
'Trevor' is at Writers Theatre, 325 Tudor Court, Glencoe, now through Sept. 17, 2017. For tickets and other information call  (847) 242-6000) and visit Writers Theatre.