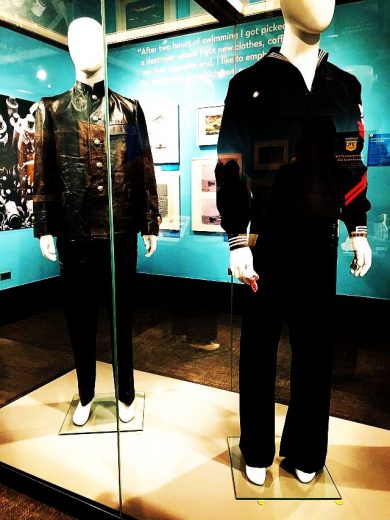 Seventy five years after Allied troops landed on the beaches of Normandy France, on D Day, June 6, 1944, the seaborn invasion that would change the course of the fight against Nazi Germany was commemorated last week.
What some folks might not know is that there is another World War II 75th anniversary story that also bears telling.and commemorating.
A German submarine, the U 505, was searching for American and Allied ships in waters off the West African coast when it was captured on June 4, 1944 by United States Navy Task Group 22.3.
It was towed by the Guadalanal escort aircraft carrier to near then handed off to the Abnaki, the fleet's tug to enter Bermuda waters in secret so the Germans wouldn't know to change the code books and other important materials found on board.
In  Their Finest Hour, Winston Churchill had referred to the U-boat peril as "The only thing that really frightened me during the war…"
But the U boat capture did make a difference.
What the U-505 yielded was approximately 900 pounds of code books and documents, and two Enigma machines that saved the U.S Navy countless hours of decoding.
The U-505 was donated to the Museum of Science and Industry in 1954 where it resides in its own, specially built space and where numerous visitors have toured it or merely stopped to see it.
However, MSI has now pulled out materials and obtained more items for a temporary exhibit to commemorate the capture.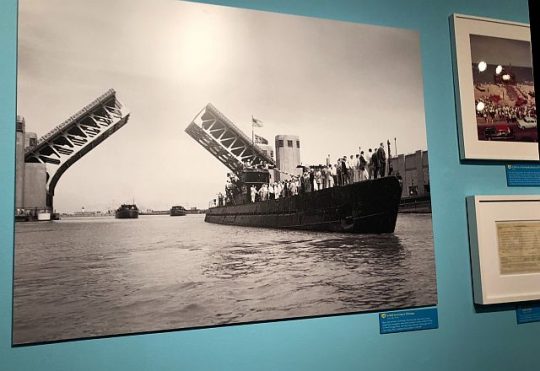 Opened early June 2019 in time for its own 75th anniversary, the exhibit is "The U-505 Submarine – 75 Stories."
Housed in a small room on the ground level, it is packed with items from the German sub and items from the American perspective. Visitors should look for scrapbooks, journals, photos and a Marvel comic book about submarines and a book about Capt. Daniel Gallery who commanded the TG 22.3's Guadalcanal escort aircraft carrier and the destroyer escorts commanded by Frederick S. Hall that were involved in the capture.
Among the exhibit's FAQS, is that Daniel Gallery's brother, Father John Ireland Gallery, thought the U-505 should go to Chicago as a war memorial. A photo of the U-505 going under the Michigan Avenue bridge is in the exhibit.
"The exhibit has rarely seen things from our collection," said MSI Director of Collections  Kathleen McCarthy, the museum's head curator.
For more exhibit information visit U505 Submarine/75 stories.
The exhibit and viewing of the submarine are included in the admission (submarine tour is extra). For admission and hours see MSI/Visit.
Jodie Jacobs