Evanston Art & Big Fork Festival… If looking for a fun festival atmosphere with lots of local dishes, beer and wine plus bands plus art to see or buy go downtown Evanston, Sept. 30 through Oct. 2, 2016. The event is a chance to shop for gifts ahead of the holiday crush and try some of the suburb's restaurant' fare. The festival center is at 800 Church Street. Hours: Art Fair – Fri. 4 a.m. –dusk, Sat. 10 a.m.-dusk, Sun. 10 a.m.-5 p.m. Food and Music – Fri. 4-9 p.m., Sat. 10 a.m.-9 p.m., Sun. 10 a.m.-5 p.m. For other information visit Art&Fork.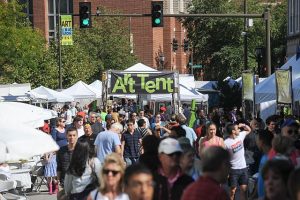 Lyric Opening Night and Opera Ball… Pull out the fancy clothes. It's time to dress up for Lyric's glamorous first night of the 2016-17 season. The opera is Richard Wagner's Das Rheingold, the first opera in the Ring cycle. Think Rhinemaidens guarding gold that can be forged into an all-owerful ring. Conducted by Sir Andrew Davis, the opera starts at 6 p.m. and runs 2 hours 30 min. Tickets are $49-$245. Opera Ball tickets are separate. For opera tickets and other information call (312) 827-5600. For Opera Ball call (312) 827-5682. Also visit Lyric or Lyric Opener.
West Town Art Walk… This is a "Snack-N-Stroll" event so try the restaurants' fare and listen to bands while checking out the art and shops in the city's Chicago Avenue – Ashland area. Tips: Look for art in Eckhart Park at Chicago Avenue and Noble Street and yummy tastes at the Food Truck Social on Noble Street from Chicago Avenue to Chestnut Street. There is also an Art Car show on Chicago Avenue between Paulina and Wood Streets. Hours: Sept. 30 Fri. 5-8 p.m., Oct. 1 noon- 6 p.m. For other information visit West Town.
St. Benedict's Oktoberfest… Yes Oktoberfests begin in September but if you missed them or are still yearning for German food, beer and bands, head over to St. Benedict's Courtyard at 2215 W. Irving Park Road in Chicago Sept. 30 through Oct. 2, 2016. Hours: Fri. 3-10 p.m., Sat. 1-10 p.m., Sun. 3-8 p.m. For other information visit  St. Benedict's Oktoberfest