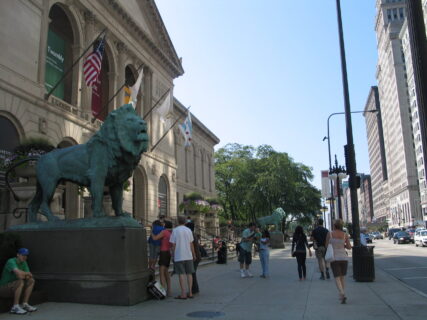 We're past Black Friday and Cyber Monda but there are still gifts to get so here are some ideas for in person and on line shopping.
In Person
The "One of a Kind Holiday Show is at The Mart this weekend from Thursday through Sunday. The show, which returns in late spring, brings back the fun of shopping without the stress.
There are more than 500 artists (think major art fair plus) that includes clever, hand-crafted, cooking utensils and gorgeous glass items. But it also has food booths of candy, spices and other delectables. Hours: Dec. 7-9, 10 a.m.-7 p.m. Dec. 10 – 10 a.m.-5 p.m.
For tickets and more information call 800-677Mart or see Attend | One of a Kind Show (oneofakindshowchicago.com)
The Mart is at the Chicago River between Orleans and Wells Streets. The show is on the 7th Floor.
On Line – Museum shops
If downtown Chicago, make the trip a museum destination as a two-for so you enjoy an exhibition and pick up gifts. Many of the Cit y's top museums have on-line gift stores so you can shop at your best time.
Art Institute of Chicago
Among the best museum stores, at AIC you can find items at many price points from a Pablo Picasso scarf for $190 to cute Georges Seurat "Sunday on La Grand Jatte" socks for $16. For more ideas visit  Museum Shop.
 Museum of Contemporary Art, Chicago 
Jewlery, puzzles, home décor are at all price points ranging from a Frida Kahlo puzzle for $19.99 to a Midnight Crescent Petite necklace for $180.00. For these items and more ideas visit MCA Shop.
 Happy Shopping
Jodie Jacobs