SOMEWHAT RECOMMENDED
A parody of William Shakespeare is clever when performed by Second City or by another theater when advertised as a take-off by one of Chicago's many production companies.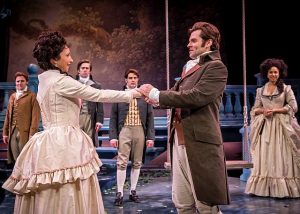 But it was a surprise when opening night of Chicago Shakespeare Theater's 'Love's Labor's Lost,' an early Shakespeare comedy, lines were intentionally overly emoted and humorous characters became caricatures.
Written in the 1590's, CST's version is nicely placed in the 18th century with a romantic, beautiful set by scenic designer Kevin Depinet and gorgeous costumes by Christina Poddubiuk.
There's no question that the play, an ironic exposure of good intentions foiled by man's innate nature, is a comedy.
Ferdinand, King of Navarre (John Tufts), and his three companions, Lords Berowne (Nate Burger) , Dumaine (Julian Hester), and Longaville (Madison Niederhauser), pledge to three years of study and fasting without the company of women. The King subsequently decrees that women will not be allowed within a mile of the court.
Complicating matters is a subplot of Spaniard Don Adriano de Armado (Allan Gilmore) betraying an affair between local lad Costard (Alex Goodrich) and local wench Jaquenetta (Maggie Portman). Adriano also likes her and discusses it with his page, Moth (Aaron Lamm).
Then the Princess of France (Jennie Greenberry) and her ladies, Maria (Jennifer Latimore), Katherine (Taylor Blim) and Rosaline (Laura Rook) arrive to speak with the King but they have to camp outside the court.
Of course, since this is a Shakespearean comedy, the king and his lords fall for the Princess and her ladies and messages are given to the wrong people.
Taking a playful approach similar to 'A Midsummer Night's Dream,' a comedy also written in the 1590's, should work. The problem, at least for fans of Shakespeare's sophisticate language,  is when actors' overblown actions distract from clever dialogue.
Details: 'Love's Labor's Lost,' directed by Marti Maraden, is at Chicago Shakespeare Theater, 800 E. Grand Ave. on Chicago's Navy Pier, now through March 26, 2017. For tickets and other information call (312) 595-5600 and visit Chicago Shakes.