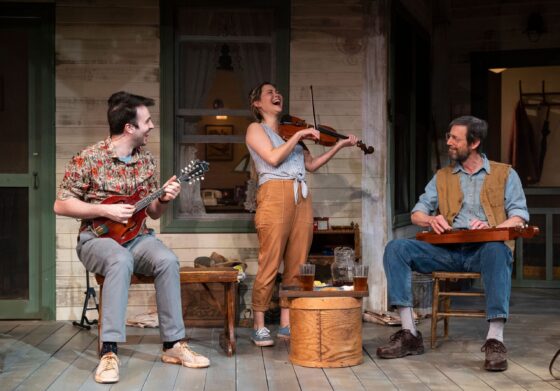 It is impossible not to move the shoulders or tap the feet when Lisa Heimi Johanson as the bi-racial Mira, David M. Lutken as her Appalachian grandfather, Edgar "Gar," and Morgan Morse as her boyfriend, Beckett, pick up their instruments and treat audiences of "The Porch on Windy Hill" to a couple of hours of well-played, traditional bluegrass.
The three actors, make up the cast of a show playing now through May 14, 2023, at Northlight Theatre in Skokie. 
Lisa, a Broadway, national tour, regional and tv actress/singer/musician, David Lutken, a noted Broadway, Carnegie Hall, Nashville, musician/actor, and Morse, a talented musician and popular regional actor, are also three of the show's four writers.
They are led by international, off Broadway and regional playwright/director/choreographer Sherry Lutken who conceived the play.
Arguable, there is another cast member: the play's traditional Appalachian music.
"We used music to tell the story," Sherry said, noting that people from different backgrounds could amicably come together when appreciating music.
And thus, "The Porch On Windy Hill" was conceived to incorporate a beloved regional music form into a fragile family reunion as a healing lotion. Its writers hope the show will spark discussions on COVID's disturbing byproduct of anti-Asian sentiment.  
A recent telephone interview with Sherry delved into how the show and its theme came to be. After all, except for one-person celebrity interpretations, most theater productions don't have the play's writers doubling as the cast.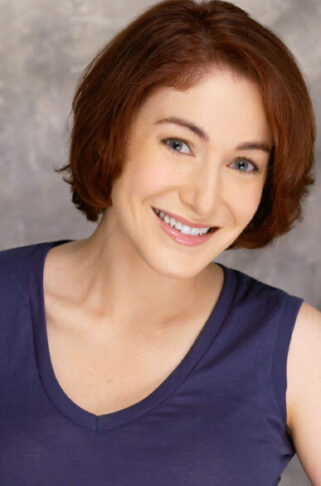 It started with COVID changing what Sherry could substitute in her theater schedule. The venue wanted something small, instead of the multiple set and costume changes required by the slated production.
"It was a scary time for a lot of people. There was all this messiness. We had a show scheduled for 2021. We still hope to do it. It had a large cast."
The "we" are Sherry and husband David. He co-devised and starred in the multi-award-winning Woody SEZ: The Life and Music of Woody Guthrie which included other talented musician/actors and has played internationally and in the United States including Chicago.
So, while stuck indoors, sheltering from COVID but looking for a different play, "a story that would resonate," Sherry said, her thoughts turned to how a close, bi-racial friend would be feeling given all the hate expressed against Asians and what her friend would tell her children.
"There was a mindset out there leading to rising aggression," she said.
Explaining that Lisa who was passionate about justice was biracially white and Korean, Sherry said, "We thought of Lisa and how she expressed herself in her poetry on social media."
The Lutkens then added Morgan, an actor/musician, writer they knew from his regional work. The four of them started developing what became the script for "The Porch on Windy Hill."
"We'd dive into ideas developing the basic premise," Sherry said. "We were on zoom with long discussions on the subject matter, adding and then cutting. It was creative. It became magical."
She compared the process to a sculpture that starts with a block of wood or stone. "You whittle and chip away until a bird emerges," she said.
She added that during this time, "David was mining the American landscape of music. Its roots."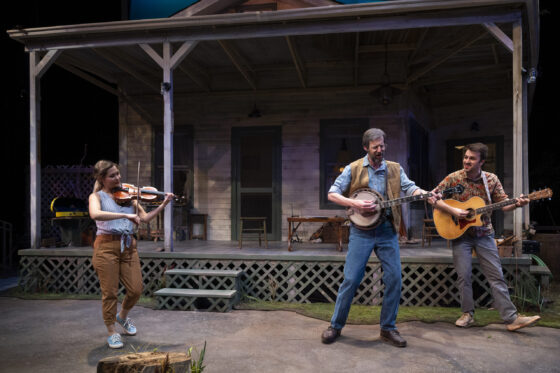 "We often talk about how music melds the sounds carried to this country. Music is part of our culture. There are the indigenous peoples, the enslaved, the folks who try to forge a better life. Music speaks to people at a very deep level."
She thought it brought people "who deserve to be in the same space, together."
"In our personal life, I was thinking of my friend and what she experienced and that started me thinking about using the idea of Korean/white, and what it means to be different, to be biracial… what it feels like. I imagined my friend whom I dearly loved, speaking to her children."
She added, "This story needs to be told."
That became a seed for the basic plot of feeling different. Plus it could combine with music and see where music could lead.
"Once music was in (the play), we still had to start a conversation.  It became what we're hoping to achieve. We all wrote together. And we worked on it some more in a workshop with dramaturg Christine Mok".
There was a lot of the talk is not in the play."
In "The Porch on Windy Hill," music led Mira, a biracial Korean-white classical violinist, to "Gar," her estranged Appalachian, banjo-strumming grandfather and change their conceptions and misconceptions of previous family interactions. 
The music and action is facilitated by Mira's boyfriend, Beckett who is doing his doctoral dissertation on American folk music.
"David and I were talking about it – what was in my head. It's how different people coming to America brought their music and how indigenous people and enslaved people had theirs.  Music evolved in this country," said Sherry.
"We all wrote together. And we worked on it some more in a workshop with dramaturg Christine Mok."
The play premiered at the Ivoryton Playhouse in Connecticut, fall of 2021.
"It's an exciting way to create theatre. We were living the theater process when we were all stuck inside wondering what would happen to theater.
 "Music can be really purposeful. As a healing concept, it's perfect."Sherry said.
"The Porch on Windy Hill" will be at Northlight Theatre in Skokie through May 14, 2023 before moving to Weston Theater in Vermont in August and Merrimack Repertory Theatre in Lowell, MA, April 2024.
Jodie Jacobs
For tickets and other information visit  Related:  The porch where music reconnects a family