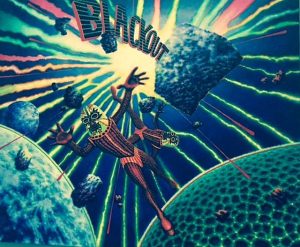 If you are the director of an art museum and are planning on showcasing art of the 1960s, 70s and early 80s in Chicago, particularly that of the Hairy Who and the Chicago Imagists and you want an era-appropriate, eye-catching exhibit to put with it, what would you choose?
For Elmhurst Art Museum Executive Director Jenny Gibbs, the aha moment came when stopping in the Pinball Hall of Fame while visiting Las Vegas with her family a couple of years ago. "It was immersive," she said of the museum.
The Pinball Hall of Fame is a 10,000 sq. foot space jammed with popular  table-top, coin-operated, pinball games from the last century. Many of the machines were made in Chicago including those of David Gottlieb whose company came up with the first (1947) game that had player-controlled flippers and that dominated the pinball machine world for years.
Chicago pinball machines and the Gottliebs, an Elmhurst family, were perfect tie-ins for the museum. But the machines were also art. Their vibrantly colored vertical backglass panels were stunning examples of illustrative art from the period. "It was quite a discovery for me," said Gibbs.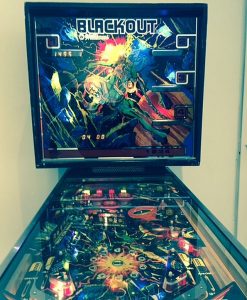 She also referred to an art exhibition precedent. In 1982, famed Chicago Imagist Ed Paschke curated "Flip Flop, Flip! Flash! – pinball art: an exhibition"  at what was then known as the Chicago Public Library Cultural Center.
The result is "Kings & Queens: Pinball, Imagists and Chicago," now at the Elmhurst Art Museum through May 7, 2017.
During a recent visit that coincided with many suburban schools' Spring Break, the machines were kept busy by families as close as Naperville and as far as Elburn in Kane County.
"He wants one at home," said a Naperville mom as her son tried out Kings and Queens, the machine that lent its name to the exhibit.
Although the machines still had their slots for dimes, nickels and quarters, no money was needed to play the games.
"It's free," said  Visitor Services Assistant Pete Clancy. Asked about the vibrant designs on the backglass of the machines, Clancy pointed out that many were by Chicago artists. "Several of them studied at the Art Institute (of Chicago)," he said.
Indeed, near the end of the exhibit was a work by Paschke designed for a pinball machine.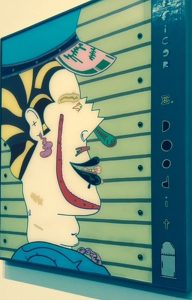 Other works on the gallery walls were by Hairy Who artists Gladys Nilsson, Jim Nutt, Karl Wirsum and Suellen Rocca and Chicago Imagists Christina Ramberg, Roger Brown, Ed Flood, Barbara Rossi and Ray Yoshida.
The "Hair" group facetiously chose its name in reference to an art critic named Harry whom they didn't particularly respect. Hairy Who artists are sometimes lumped together with Chicago Imagists because of their time period and fanciful, representational art style.
Also on view are works by pinball machine artist Constantino Mitchell.
As to the timing of works by the Chicago Imagists and Hairy Who group, many of the pieces came north to the art museum from the Illinois State Museum.
"I learned that the Illinois State Museum in Springfield was closing because of budget cuts. A big chunk of the art work came from there," Gibbs said.
"Now the (state) museum is open again so, the exhibition will go there next," she said. Gibbs noted that other works are on loan from neighboring Elmhurst College, the Roger Brown Study Collection and private collections.
Details: "Kings & Queens: Pinball, Imagists and Chicago," curated by Dan Nadel, is at the Elmhurst Art Museum, 150 Cottage Hill, Elmhurst, IL now through May 7, 2017. For admission, hours and other information visit Elmhurst Art Museum and call (630) 834-0202.