"Rashid Johnson: Hail We Now Sing Joy" is worth the drive across Illinois' northern border. Up now through early fall at the Milwaukee Art Museum, the most current works of Johnson are monumental.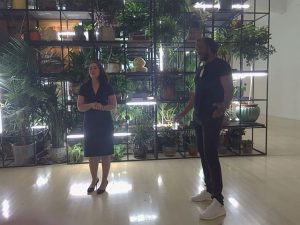 More often than not, an exhibit features works large and small. And Johnson, a Chicago native and New York-based artist, has worked with a variety of formats from photography to installations. Many of those works were in a 10-year retrospective at Chicago's Museum of Contemporary in 2012.
Now, isitors to the MAM show are likely to get the message of how Johnson, a black artist who grew up in Evanston and studied at Columbia College Chicago and the School of the Art Institute, views the world today. They are  immediately aware upon entering the exhibit that this time Johnson is thinking large scale.
The first gallery is dominated by a 10-foot high black scaffolding that is overflowing with plants in hand-built ceramic pots, small shea butter sculptures, books, a video, an upright piano and lights.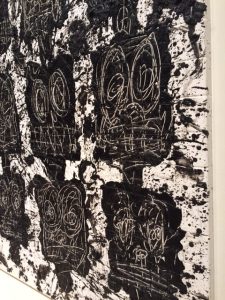 Titled "Antoine's Organ," the piece is Johnson's nod to the African Diaspora but the work is named for Antoine Baldwin, a pianist and music producer. Musicians will be up in the grid of scaffolding periodically to play the piano.
It doesn't matter which way visitors continue behind the grid into the next galleries. There are just four rooms. Each has one theme: "Antoine's Organ," "Anxious Audience," "Escape Collage" and "Falling Man."
Faces, all looking as if they were inspired by Edvard Munch 1893 painting, "The Scream," look from the walls in the "Anxious Audience" gallery. Made with wax on black soap backed by white ceramic tiles, the faces seem to reflect the racial violence and conflicts in the news.
"Escape Collage" in another gallery, goes in the opposite direction. The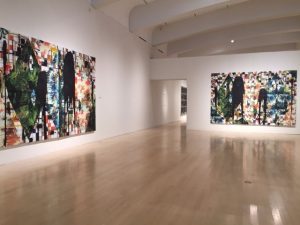 works, made from custom wallpaper appear to have black smudges that may be figures entering a colorful, tropical world of multicolored tiles and paint. Johnson has said he equated palm trees with success because they meant being able to leave a cold climate for a tropical one.
A table filled with blocks of Shea butter will capture viewers' attention in the fourth or second gallery depending on which way visitors walk after "Antoine's Organ."
Johnson leaves it up to the visitors to interpret the meaning of the butter although Shea is often thought to be soothing and even a balm.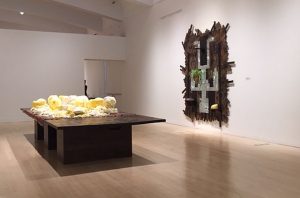 However, all the works on the walls of this gallery are called "Falling Man." They are made with red oak flooring, pieces of mirrors, black soap, wax and white ceramic tiles.
Although the figures resemble video game people, the pieces' titles of "Falling Man" beg other interpretations such as violence or unsuccessful economic ventures.
Viewers should find Johnson's work relevant now and reflective of the past given that art through the ages has historically reflected the times when created.
"Rashid Johnson: Hail We Now Sing Joy" is at the Milwaukee Art Museum, 700 N. Art Museum Drive, Milwaukee, WI 53202, now through Sept 17, 2017. For admission and hours call (414) 224-3200 and visit MAM.