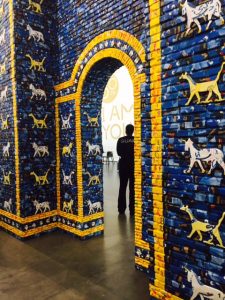 It's hard not to follow what has been happening to the people, politics and conflicts in Iraq and throughout the Mideast, but to get an artist's take on the events see "Backstroke of the West" at the Museum of Contemporary Art Chicago.
The works are Chicago-based, Iraqi-American artist Michael Rakowitz's take on the personal and historic objects destroyed during the conflicts and how they can be memorialized and interpreted through art.
Born of an American father and an Iraqi-Jewish mother, Rakowitz uses such ironic materials as newspapers to recreate looted items and Arabic food packaging to replicate the ancient Ishtar Gate. A section even illustrates how he served Iraqi dishes on Saddam Hussein's china.
To further explain how Rakowitz seeks to bring people of different cultural and social backgrounds together he gives his projects such titles as "The invisible enemy should not exist"  and "May the Arrogant Not Prevail."
To accompany the exhibition, there is a pop-up food truck outside the MCA that will serve Iraqi dishes from family recipes.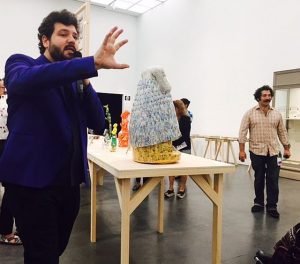 Organized by MCA Manilow Senior Curator Omar Kholeif, Manilow, Director of Global Initiatives, the exhibit is the first major museum survey of Rakowitz's work.
Opened Sept. 16, 2017, the show runs through March 4, 2018. The Museum of Contemporary Art Chicago is at 220 E Chicago Ave., Chicago, IL 60611.
For hours, admission and other information call (312) 280-2660 and visit MCA.