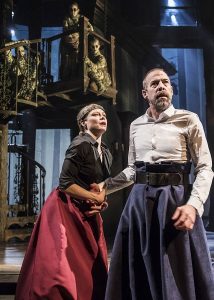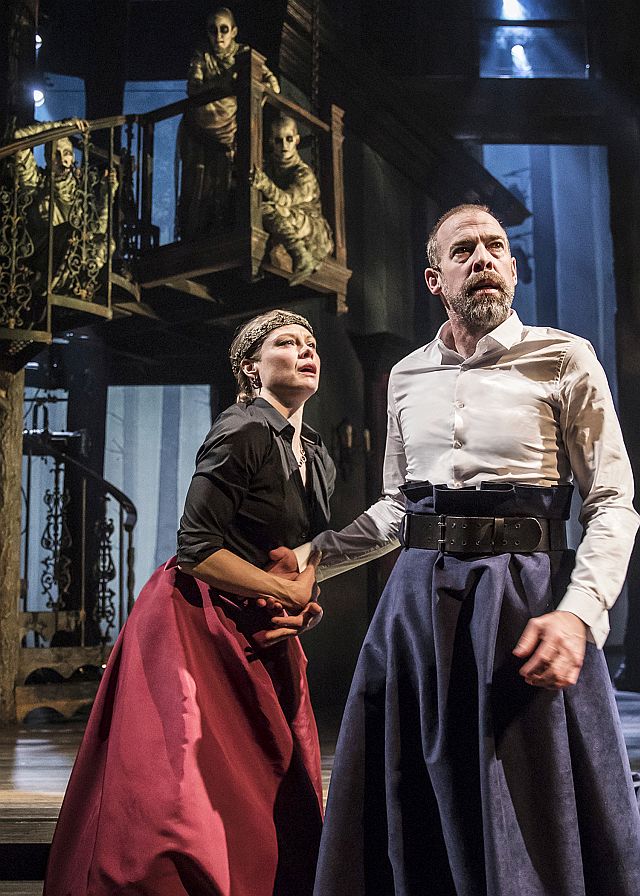 RECOMMENDED
Ah, the "Scottish play," in all its gory allegorical ambition, madness and magic, closes the 2017-18 Chicago Shakespeare's season.
Adapted and directed by Aaron Posner and Teller, who did Chicago Shakes' "Tempest"  production, their "Macbeth" proves a worthy vehicle for ghostly special effects and a bit of audience participation.
Maybe engaging the audience as the drunken porter (Matthew Floyd Miller) does immediately after the blood splotched Macbeth and Lady Macbeth appear following  the murder of Duncan (Christopher Donahue), offers welcome comic relief. This is the first time I have heard audiences laugh and converse with the Porter during "Macbeth."
But then the play descends into the darkness of never-ending death as Ian Merrill Peakes as Macbeth finds that one murder has to lead to another and Chaon Cross as Lady Macbeth realizes their murderous ambition ends in madness. Cross' sleeping-walking  "Out damn spot" scene declares her formidable talent.
Of course, the pair are egged on by the three grey-cloaked Weird Sisters (McKinley Carter, Theo Germaine and Emily Ann Nichelson), who haunt the scenes.
Without the sisters telling Macbeth he will rise from Thane of Glamis to "Thane of Cawdor," and will be King of Scotland, maybe he wouldn't pass that information on to his wife. She latched on to the glory without considering its consequences. Hmm, what would the famed Shakespearean drama be then?
As it is, Peakes certainly starts out against the plot but is convinced by Cross' sexual wiles to do the deed.
Banquo, played by Andrew White, learns from the Weird Sisters that he will father kings. He doesn't realize until it's too late that the prediction becomes his death warrant when Macbeth becomes a king worried by usurpation.
The plot is based somewhat on a history of Scotland told in the 1587 "Holinshed's Chronicles" that included "Macbeth, King of Scotland," "Macduff" and "Duncan." It claims that it really was Banquo's son, Fleance (Austin Molinaro) who became king. James VI of Scotland (also known as James I of England) was supposedly Banquo's son.
In Shakespeare's "Macbeth," Duncan's son Malcolm (Adam Wesley Brown) is proclaimed king when his forces defeat Macbeth.
Appropriately, the full title of the play is "The Tragedy of Macbeth." Ambition not only destroys Macbeth and his wife but also everyone around him.
Along with Posner and Teller, kudos go to scenic designer Dan Conway, costume designer Mara Blumenfeld and lighting designer Thom Weaver for a production that is mesmerizing.
DETAILS: "Macbeth" is at Chicago Shakespeare's  The Yard on Navy Pier through June 24, 2018. Running time: 2 hours, 20 minutes. For tickets and other information call (312) 595-5600 or visit Chicago Shakes Chicago Shakes.
Jodie Jacobs
For more shows, visit Theater in Chicago