RECOMMENDED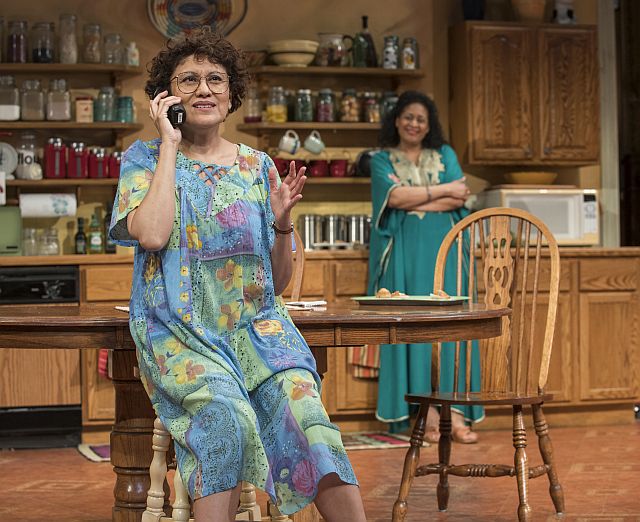 What can happen when a lonely, middle-aged woman takes in a roommate for companionship and to share expenses?
In playwright Jen Silverman's "The Roommate," now at Steppenwolf Theatre, the answers are surprising and problematic.
Adeptly directed by Phylicia Rashad to achieve the highest impact possible during the 90 minute show, "The Roommate" transforms Sharon, an uptight, judgmental, highly moral, 50-something, empty-nester into an amoral woman willing to try anything.
The setting, perfectly depicted by scenic designer John Lacovelli, is Sharon's kitchen in her large, old Iowa City home.
The catalyst for change is Robyn, another 50-something empty-nester from the Bronx, who, in photography terms, turns out to be the negative of Sharon.
Skillfully interpreted with finesse and restraint by Ora Jones, Robyn is a gay woman who is trying to leave the criminal life she led behind her in a way that is similar to breaking her smoking habit. She wants a fresh start.
Whereas Sharon,  wonderfully presented in a comical, breaking-out of an egg-shell manner by Sandra Marquez, is not just fascinated by Robyn, she wants to try everything that her roommate wants to leave behind.
That their lifestyles have been different up until they are roommates is brought home by Robyn's concern that the outside doors aren't locked and that tornadoes blow through the area but she is nonchalant towards rolling a marijuana joint.
Sharon has a nonchalant attitude towards tornadoes ("Just go down to the basement") but she calls Robyn's harmless marijuana smoking, "doing drugs."
No matter how their backgrounds differ they both feel neglected by their offspring and both are seeking a change. Nothing more can be said about the plot or a spoiler alert would have to be inserted here.
Sharon's soliloquy about loneliness is poignant. More than a few women will relate to her loneliness and to Robyn's need to change her life.
However, as good as the show is about taking on a redefinition of who a person is in the middle years, it is also likely that many audiences, myself included, will have trouble with Sharon's seemingly, final idea because it is a route that destroys lives.
DETAILS: "The Roommate" is at Steppenwolf Theatre, 1650 N. Halsted St., Chicago, through Aug. 5, 2018. Running time: 90 min. For tickets and other information call (312) 335-1650 or visit Steppenwolf.
Jodie Jacobs
For more shows visit Theatre in Chicago