RECOMMENDED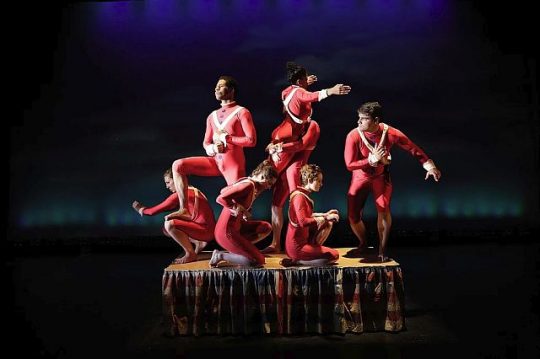 A talented ensemble of seven actors in red union suits depict the salient moments of the American Revolution in an improvisational tableau style on a roughly three foot by seven foot platform, two feet off the ground, in fifty minutes.
Produced by Theater Unspeakable and directed by Marc Frost, the show is oddly compelling and entertaining.
With no scenery or props and using their bodies alone the cast, skillfully choreographed by movement director Thomas Wynne, employ many time honored devices of stagecraft including pantomime, narration, dialogue and a cappella song to guide us through a timeline beginning with the French and Indian war through to the establishment of a new nation while covering events on two continents.
It is clear that this fun production has its roots firmly grounded in improvisation, but has been trimmed and carefully honed to display only the best fruits of their labor.
I personally love witnessing a challenge like having to stay within a confined space using no props.
Informative and witty, this is how you always wished your history lesson would be taught.
The series of vignettes that comprise the production does not break any new ground or offer us any further insights into the founding of our country.  In fact it is at times painfully obvious as it checks in with all of the most rudimentary legends such as the Boston tea party, the "shot heard round the world," Paul Revere's famed ride, Washington's crossing of the Delaware and the Signing of the Declaration of Independence.
A contemporary audience will appreciate the less touted references to the women of the revolution and the question of slavery.
In the end it is a Cliff's Notes or American Revolution for Dummies version of the revolution.  However that's not necessarily a bad thing. It serves as a reminder of what has been sacrificed, gained and lost in our struggle to establish and maintain an independent democracy.
As a theatrical option standing up against the many fine shows vying for our attention and each person's limited entertainment dollars this company might have a struggle of their own to overcome.
That said, I think this is a perfect show for any youthful theater goer you might know, particularly one who has an interest or penchant for history.  The producers may agree as there are no evening performances.
It should be performed in every middle school in the country and would find an ideal home in an historic vacation destination like Old Williamsburg, or a museum in Philadelphia, Boston or, of course ,Washington D.C. It has in fact been performed at the Kennedy Center's Family Theater.
The Theate Unspeakable cast includes: Devin Sanclemente (King George), Sonja Lynn Mata (Sam Adams), Alex Small (John Adams), Caroline M. Watson (Governor Dinwiddie), Carolyn Moore (Martha Washington), Lexi DeSollar (Abigail Adams),Jeffery Owen Freelon, Jr.(George Washington).
DETAILS: "The American Revolution " by Theater Unspeakable is at Greenhouse Theater Center, 2257 N Lincoln Ave., Chicago, through Nov. 11, 2018. For tickets and other information call (773) 404-7336 or visit Greenhouse Theater.
Reno Lovison
For more shows visit Theatre in Chicago