China's First Emperor and his Terracotta Warriors
Now through January 8, 2017.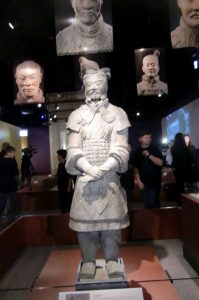 It's a terrific exhibit organized by The Field Museum with the Shaanxi Provincial Cultural Relics Bureau, Shaanxi Cultural Heritage Promotion Center and Emperor Qin Shihuang's Mausoleum Site Museum of the People's Republic of China. The warriors and other objects were ordered built to go with Emperor Quin Shihuang into his tomb.

But you might come across a gaggle of the emperor's warriors and generals downtown Chicago.  Six replica figures, two generals and four warriors, have been spotted at Wrigley Field during the Cubs-Sox Crosstown Classic. They also were seen in Millennium and Grant Parks and at the Willis Tower.
Surprised visitors and locals have been taking photos with them and sharing on social media.
Originally supposed to end their outings Aug. 1, 2016, word is that the response has been so great that a couple of the figures will be allowed to continue wandering around town through the end of August.
"People have been really excited to see them. You can get up close and personal. You can touch them," said Field spokesperson Anni Glissman who sometimes accompanied the figures.
She thinks people will get just as excited seeing the real figures on loan from China including some who were not replicated for the outdoor excursion. "People have tagged friends and said we should go check this out," Glissman said.
And, with their extended excursion, you can still take a selfie with them. Clues to their whereabouts may be on a Field website. Share your photo with The Field Museum by clicking on Spot A Warrior on Instagram.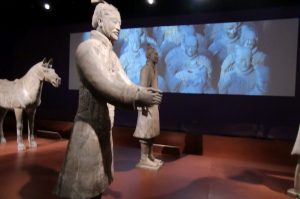 Details: The Field Museum, 1400 S. Lake Shore Drive, Chicago, IL 60605. is open 9 a.m. to 5 p.m. everyday but Christmas. For tickets and other information call (312) 922-941 and visit The Field