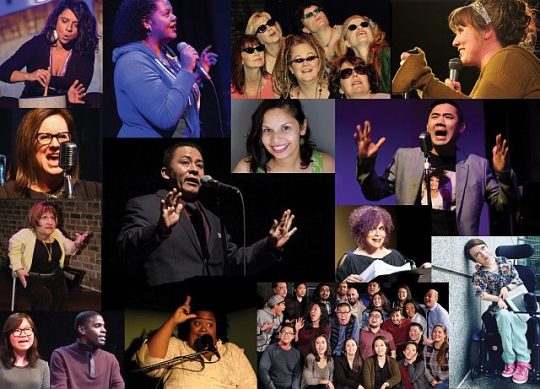 What to do in long, blah January? These three festivals: Chicago Sketch Comedy, Fillet of Solo and Rhinoceros Theater turn that gray month between red and green December and red and pink February into a multi-colored vision of comic moments, heartfelt songs and thought-provoking stories.
Chicago Sketch Comedy Festival Jan. 10 -20, 2019
The Chicago mayor's race may be a local subject for sketch comedy or politics in Britain and the US may be skewered from the stage but part of the fun of attending the annual festival is to hear how comedic entertainers view what is going on in the world or in families or in their own lives that may turn out to be similar to yours.
Started in 2002 with 35 comedy groups sharing their thoughts, the festival now attracts more than 180 groups from all over. They will be performing about 200 shows beginning Jan 10 and going through Jan. 20, 2019. So check out the performers and their dates at Chicago Sketch Comedy Lineup, get tickets and head over to Stage 773, a multi space venue at 1225 W. Belmont, Chicago.
Fillet of Solo Festival  Jan. 18 – Feb. 2, 2019
Fillet of Solo  celebrates storytelling by groups and solo performers. The performances are at Lifeline Theatre 6912 N. Glenwood Ave. and the Heartland Studio Theatre, 7006 N. Glenwood Ave. (Free parking and shuttle available). To find out who is performing where and when visit Performances.
Rhinoceros Theater Festival  Jan. 18 – Feb. 24, 2019 
Begun in 1988 as the Curious theatre Branch, this fringe theater festival brings together music and theater performers. Originally located in Wicker Park and then moving to Rogers Park, the festival took root at Prop Thtr in 2009 which co-produces the festival with Curious. Events are at Prop at3502-04 Elston Ave., Chicago.
For music, stories and plays schedules visit Rhinofest titles. For more information call visit Rhinofest.
Jodie Jacobs