If you follow superhero adventures or appreciate comic-book art should check out the Marvelocity Exhibit at Lake County Forest Preserves' Dunn Museum.
Walk in and you see a life-size figure of Captain America surrounded by life-size busts of the Hulk, Nightcrawler, Wolverine, Silver Sureer, Spider-Man Green Goblin, Iron Man, Dr. Doom. These superheroes and others have been revitalized by famed comic book artist Alex Ross.
The walls are covered with his original artwork. A movie talks about Ross and a board explains how Ross and collaborator Kurt Busiek put together a project tying Marvel heroes to historic events from 1939 to 73 that became "Marvels." Also highlighted is his "Kingdom Come"project with DC.
But the exhibit also goes back to PBS' "Spidey Super Stories" that inspired Ross as early as age 5.
Now, Ross and the folks at the LCFP want to encourage future comic book artists with the "Comic Book Cover Contest." Teens age 13-18 may submit original artwork no larger than 18 by 24 inches that could be used for a comic book cover by June 1. The winner gets a free guided tour of the exhibit with Ross.  See Contest for more information and entry form.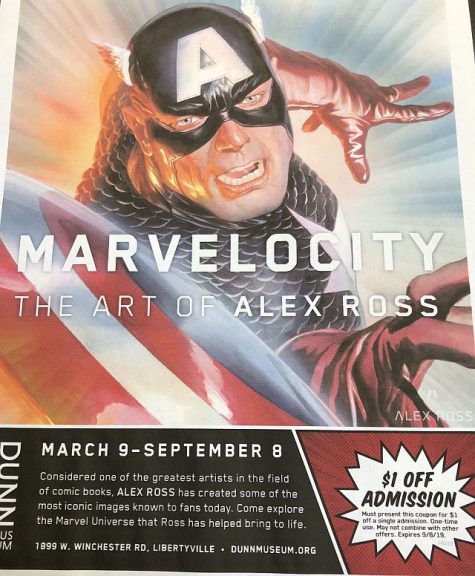 In addition there is a poster with a $1 off coupon, shown here as a photo that can be copied and cut, for visiting the exhibit which is up through Sept. 8, 2019
The Dunn Museum is in the Lake County Forest Preserves General Offices building at 1899 W. Winchester Rd, Libertyville, IL 60048. The building is in a corporate center on the south east side of Technology Way. Admission is $6 for adults; $3 for seniors and youth ages 4-17; free for children ages 3 and under.  Visit Dunn Museum for more information.
Jodie Jacobs