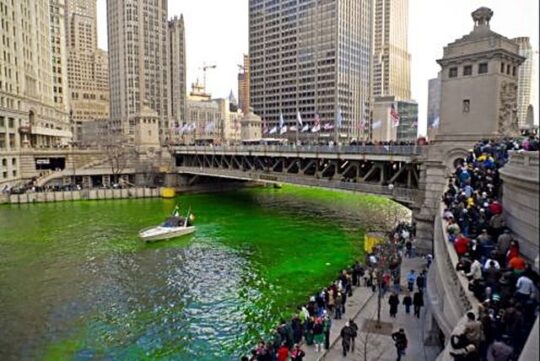 On Tuesday, March 17, 2020, claim a little Irish blood. Wear something green. Say Sláinte for cheers and toast Éire go Brách! (Ireland forever). But you don't have to wait until March 17, the commemorative date of St. Patrick's death to celebrate his feast day.
Chicago celebrates this patron saint of Ireland with parades, multiple pub toasts, Irish dancing, music, special boat cruises and of course, the famed turning of the Chicago River green several days before the official date.
The festival, concert and river scene
Siamsa Na Ngael celebration at Symphony Center, 220 S.. Michigan Ave. brings Celtic music, dance and stories to the Chicago symphony's home, March 11.
House of Blues, 329 N. Dearborn St., Chicago, features the famed Gaelic Storm on March 13-14.
March 13-15 Cruises take off from Navy Pier and Michigan Avenue docks to the sounds of Irish music and tour the Chicago River or watch it turn green. For March 14's river dyeing event check with Wendella for a 21 and older cruise and a kids cruise.  Or visit Shoreline Sightseeing's Architecture River Cruises that celebrate Saint Paddy's weekend by also learning about Chicago's buildings. Other cruise choices are to see what the Spirit of Chicago Lunch Cruise has on the menu for March 14 or consider the inaugural St. Patrick's Day Clover Cruise to watch the river change color, March 14.
Irish American Heritage Festival  is the annual popular place to head for food, drinks, good Irish dancers and good bands when the City of Chicago parade is over on Saturday. The Heritage Center is at 4626 N Knox Ave. Tickets are needed for the festival which goes from 1 to 11:59 p.m.
Shamrock on the Block is another popular post Saturday parade spot for food, drinks and entertainment. It's like a large block party outside Old St. Pats Church at 700 W. Adams St.
River Dyeing happens at 9 a.m. March 14 along Wacker Drive between Columbus Drive and State Street. To watch from the Michigan Avenue Bridge or the walkways, get there early because the event normally attracts crowds.
The parades
City of Chicago St. Patrick's Day Parade is considered the largest of its kind in the U.S. Beginning at noon, politicians, floats, bagpipers, dancers and bands take three hours to go north on Columbus Drive from Balbo to Monroe Drives.
Southside Irish Parade on March 15 is a neighborhood, family-friendly parade that draws from other areas. Once canceled because of drinking there is a strictly enforced no drinking policy in the neighborhood and along the parade route which  goes along Western Avenue from 103 rd  St. to 115th.St. The parade steps off at noon.
Northwest Side Irish Parade starts at noon at the William J. Onahan School then goes south on Neola Avenue to Northwest Highway then north to Harlem Avenue. Parade watchers often go to a post parade party at St. Thecla Falcon Hall, 6725 W. Devon Ave,. for food, drinks and entertainment from 1 to 5 p.m.
Sláinte
Jodie Jacobs