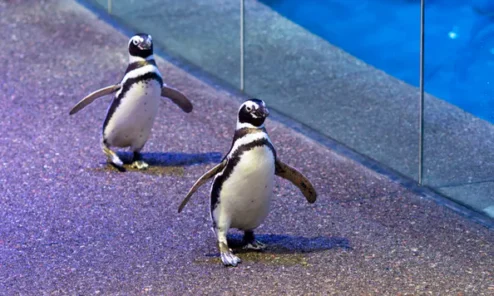 From learning more about such aquarium residents as penguins and beluga whales in Animal Spotlights and assisting in cleaning up natural areas on Teen Nature Days to restoring beaches and forest areas during Action Days, Chicago's Shedd Aquarium is definitely "on it" when it comes to a variety of Earth Day/Week/Month activities for all ages and dates.
Families (all age groups)
Visit the aquarium and attend an animal spotlight (included in general admission). It goes into the behaviors and adaptations of dolphins, belugas and sea lions. Guests leave with a greater understanding of these Shedd residents plus how to protect our blue planet for these animals and their wild counterparts. Tickets support Shedd's efforts to care for the aquarium residents and research in wild aquatic ecosystems. For more information visit Animal Spotlights | Shedd Aquarium.
Teens
Teen Nature Days explore local beaches, waterways and forest preserves, while helping to restore and protect them. Go by bus (provided free) from the Shedd to the locations and back. Activity is free but needs an online registration. For more information visit Teen Nature Days with Shedd Aquarium | Shedd Aquarium
All age groups
Join free Shedd-led Action Days in local community habitats. Guests support animals from frogs to fish while having fun and helping to restore and protect nearby beaches, waterways, and forest preserves. There are a variety of dates at different locations. For more info and to register visit Shedd Aquarium Action Days | Shedd Aquarium
Other action
Three other ways to take action for animals this Earth Day: *reduce the use of single-use plastic
* reach out to state lawmakers to let them know you support plastic reduction and reuse efforts at the policy level
*discuss the importance of caring for our natural environments your friends and family 
 Shedd Aquarium 1200 S. DuSable Lake Shore Drive
Chicago, IL 60605