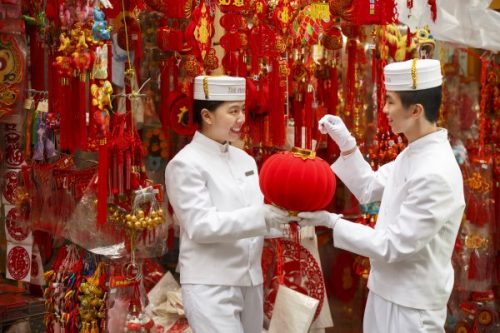 If you have a Chinese restaurant near you it is likely decorated for the Chinese New Year and offering a special menu. During  the Chinese New Year celebrations Feb. 4 through Feb. 17, 2019.
Go. Enjoy. And look at the paper placemat that might be at your place setting because it likely has the Chinese Zodiac on it or information that this is the Year of the Pig.
Then, if looking for something special to eat or do here are some suggestions.
Dining
The Furama Restaurant in the Uptown Argyle neighborhood is holding the Lunar New Year Celebration for the South-East Asia Center at 11:30 a.m. Feb. 9, 2019. The special event features entertainment and a 10-course traditional, Chinese-style banquet of seafood chowder, taro duck, roast chicken, walnut shrimp, mushrooms, vegetables, noodles with beef and broccoli, plus dessert. Cost $25.
Entertainment will be cross-cultural music and other performances representing Asian and non-Asian cultures because the South-East Asia Center strives to "Build Bridges" of understanding between all cultures. For reservations visit SE Asia Center New Year.  Furama Restaurant is at 4936 N. Broadway at Argyle.
Hing Kee Restaurant holds its annual New Year Dumpling Making Dinner at 3:30 p.m. Feb. 9 and Feb. 16, 2019. The event includes storytelling, Lion Dance, dumpling making and a 10-course, traditional Chinese meal. Cost is $40 adults, $35 children under age 12. Call (312) 842-1988 or visit Chinese New Year Dumpling Making Dinner Eventbrite.
Hing Kee Restaurant is at 2140 S. Archer Ave., 2nd floor.  For more Chinese cultural information visit ChicagoCCI .
Celebrate the Year of the Pig with a Chinese New Year themed afternoon tea in The lobby at the Peninsula Chicago Feb . 4-10. There will be a Lion Dance show. For tea reservations  call (312) 573-6695 or visit Peninsula Chinese New Year. The Peninsula Chicago is at 108 E. Superior St. at Michigan Avenue.
Shopping
Two shopping centers, Fashion Outlets of Chicago in Rosemont, and The Shops at Northbridge, Chicago, will be handing out Chinese New Year-style red envelopes with special store offers  Feb. 2-17, 2019.
At Fashion Outlets go to Concierge Services on Level 1 near Saks Fifth Avenue OFF 5TH for an envelope containing : Year of the Pig Savings Pass that provides up to $800 in savings and a complimentary bag. For more information visit Fashion Outlets of Chicago . Fashion Outlets is at 5220 Fashion Outlets Way, Rosemont.
At the Shops at North Bridge go to Concierge Servies on Level One near Nordstrom for the red envelope. In addition,  North Bridge visitors can see the Huaxing Arts Troupe and visit activity booths from 1 to 3:30 p.m. Feb. 3. The Shops at North Bridge is at 520 N. Michigan Ave. For more information visit Shops at North Bridge.
Jodie Jacobs
.