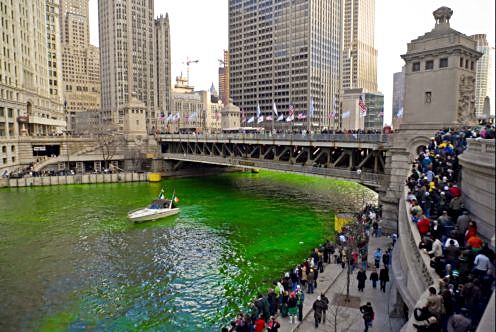 Wear something green on March 17, the date Saint Patrick died in the fifth century. But if you want to watch a parade in his honor or see the Chicago River turn green you'll want to start celebrating St. Patrick's Day the weekend before the anniversary date.
Chicago River Dyed Green
On Saturday, March 12, 2022, start your celebration near Chicago's Mag Mile at the Michigan Avenue Bridge, Wacker Drive on the south bank or the  Riverwalk on the north bank.
That is where the Chicago Journeymen Plumbers Local Union 130 work their secret formula magic each year between Columbus Drive and Wabash Avenue, Saturday morning before Chicago's St. Patrick's Day Parade.
Typically using two motor boats and usually starting about 10 a.m., union members pour and disperse gallons of an orange-colored environmentally-safe vegetable powder into the water.
The process takes about 45 minutes and draws a big crowd so if you go you'll want to get to the area early for a good vantage point.
Originally started in 1962 using a fluorescent dye that made the water green for a few weeks, the dying process was changed to an eco-friendly powder that turned the river green for a few hours.
Chicago St. Patrick's Day Parade
Next, head to Columbus Drive for the Chicago St. Patrick's Day Parade. It begins at 12:15 p.m. at Balbo Drive and continues north to Monroe Drive.
Expect to see floats, Irish dancers, bagpipers and bands including the Shannon Rovers Irish Pipe Band which has been leading the parade since 1956. Then, you will hear lots of applause as representatives of the 2022 theme, Chicagoland's Essential Workers, march into view.  Of course there will be city, state and US politicians. For more info visit  St. P:atrick's Day Parade org.
Irish American Heritage Center Fest
Wind up at the St. Patrick Festival at Irish American Heritage Center for good food, beer and entertainment from 1 to 11:30 p.m. While there absorb Irish culture in its museum.  Find tickets and more information at Irish American Heritage Center (irish-american.org) (Children welcome and ages 11 and under have free admission.
South Side Irish Parade
The St. Patrick salutes continue on Sunday, March 13 with the popular South Side Irish Parade in the Beverly neighborhood of Chicago at noon.
A family-friendly parade, it began as a really small, kids only parade by a couple of neighbors in 1979.  However, it grew and grew to become so  popular across the Chicago area attendance disrupted its Beverly neighborhood until restrictions on parking and drinking were put in place.
So go but observe neighborhood requests. The parade is on Western Avenue from 103rd Street to 115th Street. For more information visit Home – South Side Irish Parade
Northwest Side Irish
If  Northwest is more your location, consider the Northwest Side Irish Parade March 13 that also beings at noon. It goes from Neola Avenue to Northwest Highway.
A fun, community event, the parade winds through Chicago's Norwood Park neighborhood. It begins at the William J. Onahan School, goes south on Neola venue to Northwest Highway and then heads north to Harlem Avenue. There is an after parade party at Zia's Social.  Visit  Northwest Side Irish Parade.
You might hear Céad mile fáite  (A hundred thousand welcomes) n or Erin Go Bragh (Braugh)  roughly meaning Ireland til the end of time, there or at the Irish Heritage Center.
Jodie Jacobs