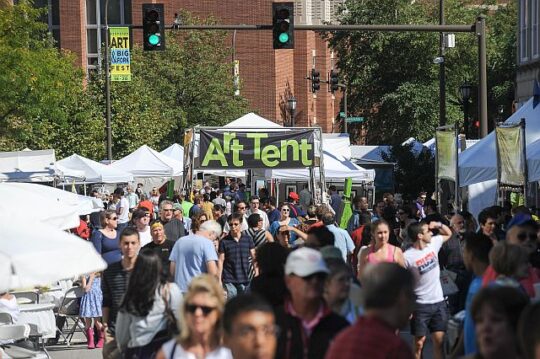 The good news is that the Chicago area is filled with fun weekend outdoor events. The challenge is deciding what to fit in, how much to see (and eat), where to go, and when. Be adventurous. Instead of choosing just a local spot, add a place or event you haven't tried.
Here are a half dozen events to check out in the rest of July 2022.
Art
July 23 -4 Glencoe Festival of Art
Stroll the downtown of this upscale North Shore suburb to see more than 90 artists and artisans. The show features ceramics, paintings, jewelry, sculpture, glass and wearable art. A kid-friendly and pet-friendly event, the show includes artist demonstrations, kids' activities and live music.
Hours are 10 a.m. to 5 p.m. both Saturday and Sunday. The show's center is 700 Vernon Ave., Glencoe. Free admission. For more information visit Amdur Productions/Glencoe.
July 30-31 Art at the Glen
Visit the downtown center of a former Naval Air Station in Glenview that was turned into a residential/shopping area known as The Glen. Operated by Art show guru Amy Amdur, Art at the Glen features the works of more than 140 artists. 
The show is free. Hours are 10 a.m. to 5 p.m. Saturday and Sunday radiating out from 2030 Tower Drive, Glenview. For more information and a map see Amdur/The Glen. 
Food Fests
July 21-24 Taco Fest Highwood Days
The tiny (somewhat over a square mile) City of Highwood surrounded by the suburb of Highland Park, is known for the many restaurants that line its downtown on both sides of the METRA tracks. Those eateries, ranging from Italian and French to Caribbean and Asian will be ope but the featured foods this weekend are many kinds of tacos. The taco booths are in Everts Park, a block west of the train tracks and Green Bay Road between Highwood and North Avenues. Taco Fest hours: Thursday and Friday 5-11pm, Saturday noon – 11pm and Sunday noon – 9 pm.
The bonus for kids is a carnival set up in the METRA train lot on the east of the track. For more information and a map visit Taco Fest/Highwood Days.
July 22-24: Taste of Lincoln Avenue (Lincoln Park) 
Now in its 38th year and operated by the Wrightwood Neighborhood Assoc, the festival features restaurants in the area plus music and assorted vendors. Hours: Friday 3-10 p.m., Saturday and Sunday noon to 10 p.m. The event is on North Lincoln Avenue between Fullerton and Wrightwood.
For more information visit Taste of Lincoln Avenue.
Music
July 31 Gospelfest
This annual Lake County Forest Preserves music festival is a free concert at the Greenbelt cultural center, 1215 Green Bay Road, North Chicago.
Guests included Vernill Pipes and Washington D.C.'s New Vizion plus Gospel singers from Lake County. The event runs from 3 to 7 p.m. .
For additional event details: call 847-968-3477. or visit Gospelfest.
Jodie Jacobs