RECOMMENDED
If you have the ability to turn sound into images in your mind, spoken word performances can be great theater.
Moth StorySLAM events are open mic storytelling competitions held in several large cities around the U.S.
The event I attended this week took place at The Promontory in Hyde Park at 53rd and Lake Park, an attractive modern glass and steel second floor facility in what was previously a Barnes & Noble Bookstore.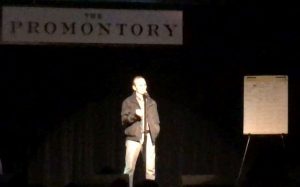 It seats over 100 people, has a large well lighted stage and a full cash bar in the back. The venue is used mainly for music although there is a nice, full-service restaurant on the first floor.
Be prepared for a considerable number of stairs to the performance area. They claim to have handicap access but it is an awkward service elevator accessed from the restaurant.
Moth StorySLAMs are held in this location the second Tuesday of every month. Tickets are $10 and available online at The Moth.
Ten volunteer storytellers are chosen at random to tell a true story without using notes. Each story is five to six-minutes long. Then, they are scored on a scale of one to ten based on how well the story is crafted as well as presentation and entertainment value.
Winners have an opportunity to advance to The Moth GrandSLAM.  Selected stories recorded at the various venues can be heard on the The Moth Radio Hour. In Chicago listen Thursday evenings on NPR Station 91.5 FM.
Each event has a topic upon which to  base the stories. When I went it was  DISCOVERY.
The first fellow spoke about what he discovered about his deceased parents through an interaction with a man who had been his father's best friend and his mother's first husband.
Another woman spoke about what she had discovered about childhood friendship the summer she and her friends rode a mattress down an infrequently used stairway at a major department store in St. Louis.
The winner incorporated a good deal of humor. His discovery related to his determination to hang on to his childhood dream of owning a monkey.
My friend, Robert, a frequent public speaker, talked about discovering that true winners help others to succeed.
There were other stories dealing with the discovery of love, romance and personal pain.
Some speakers are professionals while others may be making their first public speaking appearance which provides for great entertainment with an element of danger.
Though I have been something of a devotee of the radio show, I would say in this case I discovered a great new venue and an enjoyable event that I would easily recommend. Perfect if you enjoy exploring the diversity of the human experience.
Other MothSLAMs are held on Chicago's Northside and in Evanston.
Visit themoth.org to learn more.
Reno Lovison