Instead of looking for them in farmers' fields, look for scarecrows and pumpkins at three fun-for-all-ages festivals where you can make or carve an inspired personality. The festivals are happening Oct. 6-8, 2017.
Highwood, a North Shore town, is holding its now nationally famous Great Highwood Pumpkin Festival. St. Charles, west of Chicago, has its 32nd Annual Scarecrow Fest. The Chalet Nursery, a fun place to find holiday items and indoor/outdoor décor pieces near Edens Expressway, is doing its annual scarecrow-making festival.
Great Highwood Pumpkin Festival
You'll never see as many pumpkins and different pumpkin faces as in Highwood, IL this weekend. The tiny (little over a square mile) city tucked between Highland Park and Lake Forest, has been trying to break the Guiness World record of 30,851 carved pumpkins for the past few years. The streets on the east side of METRA's Union Pacific North Line tracks are edged with tall, metal pumpkin stands where lit pumpkins cunningly grin at visitors at night. Festival doings day and night range from pie eating and costume contests to hay, pony and camel rides. There is also a Super Hero walk-run to honor a Make-A Wish child plus pumpkin carving, entertainment, food, tricks and treats.
A $3 per day or $5 for the weekend admission charge benefits the Make A Wish Foundation. Last year the festival raised $60,000. But also go just because the event is fun.
Some events need registering. For the Fun Walk/Run click here. For the entertainment and full event times and other registrations visit schedule. Hours are Friday 4 to 10, Sat. 9 a.m Fun Walk/Run and general opening 11 a.m. to 10 p.m. and Sun. 11 a.m. to 9 p.m,  847-668-1213
Best plan is take the train because parking will be scarce. Or go north to Old Elm Road then east to Sheridan road and back south to Hotel Moraine at 700 Sheridan Road where a shuttle will take visitors to the festival.
More than 100 scarecrows will populate St. Charles Oct. 6 through Oct. 8.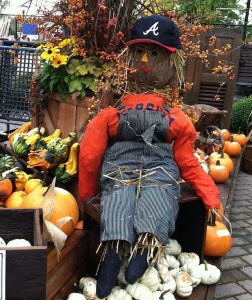 The event also includes, Arts & Crafts show, vintage autos, entertainment, pumpkin displays, make-you-own scarecrow stations, pumpkin carving and food. Most events are free. The festival is divided into sponsored activity zones along Main Street (Hwy 64) between Fifth and Third Streets east of the Fox River and just south of Main Street across the river.
Hours: Friday and Saturday, 10 a.m.-9 p.m., Sunday 10 a.m.-5 p.m. For more activity information download the detailed map pdf by visiting brochure.
Chalet Nursery Scarecrow Festival
The Chalet Nursery and Garden Center  has lots of Halloween decor plus visitrs can make their own scarecrow. All that is needed is to bring the scarecrow's clothes because the Chalet will provide a head and straw. Hours: Oct. 7-8,  11 a.m. to 4 p.m. The Chalet is at 3132 Lake Ave, Wilmette across from Edens Plaza. For more information call (847) 256-0561 and for general Chalet information visit Nursery.