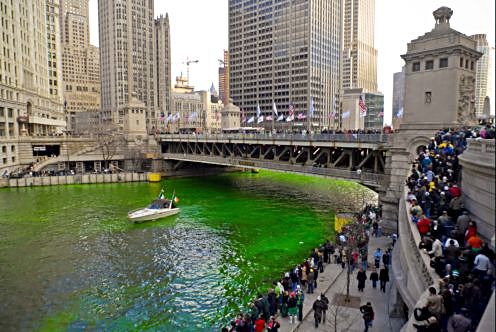 Céad míle fáilte, a hundred thousand welcomes, may greet customers of Chicago area eateries and bars in March. And expect the city's skyline to be filled with green lights from March 11 through March 17.
Even though the city's famed downtown and the two neighborhood parades, Southside Irish and Northwest Side Irish, have been canceled for 2021 and the plumbers union that turns the Chicago River green shows no sign of doing so this year, the easing of restrictions by Governor J B Pritzker and Chicago Mayor Lori Lightfoot means many restaurants and bars will be happily welcoming customers in time for March's St. Paddyh's Day celebrations.
Expect them to ask guests to mask when entering and when their server is present. And check on reservations because they will be operating at 50 percent capacity and shortened stay time.
"The City of Chicago is encouraging St. Patrick's Day celebrations that follow current city and state health guidelines," noted a Dept. of Cultural Affairs and Special Events statement.
In addition, the statement said, "The Chicago Loop Alliance is asking downtown buildings to light up green for ShamROCk Chicago, and other neighborhoods are hosting socially distance scavenger hunts and other reimagined programs."
As an example, Southside Irish Parade committee is hosting a Shamrock our Blocks celebration with signs and decorations. The South Side Irish Parade
"Each year, the South Side Irish Parade draws thousands of people to our community and to our neighborhood businesses.  The parade committee's goal is to create a plan that gives back to local businesses as well as offer a family-friendly festive way to celebrate St. Patrick's Day this year," said 2021 Committee Chair Tim McSweeney
Northwest Side Irish are in the planning process. Visit Northwestsideirish.
As to a few places to hoist a Guinness or chow down on something supposed to be Irish or green, check out the following businesses:
From now until March 17th, Stan's Donuts (all locations0 is offering all things green. Guests can get Emerald-dipped donuts, Green River Glazed donuts, Green Mint Hot Chocolate, Irish Cream Cold Brew and Mint Cream Cold Brew topped with Cold Foam, Mint Oreo Shakes, and more.
West Loop hotspot PB&J offers a St. Patrick's Day experience for up to six guests. Starting at 8 a.m. March 13, guests can book these pre-paid packages:
St. Patrick's Brunch Kit –  1 bottle of Veuve Clicquot Yellow Label, Carafes of Green Orange Juice,Green Beer, and guests choice of 2 Brunch Pizzas at $50 per person.
Leprechaun Package – 1 bottle of Jameson, Don Julio Blanco or Ketel One, Green beer, 2 Pizzas, and St. Patrick's Day party swag at $75 per person.
Dealers Choice –  Guests can order any food or beverage item off PB&J's menu a la carte with a $75 minimum per person.
In addition to these pre-paid packages, PB&J will also have a "Pot O Gold" pop up bar outside. Guests can purchase Green beer, Guinness, Red Bull Cocktail, Slane shots, and more. As a proud sponsor of the 2021 St. Paddy's Day 5k and 8K Run/Walk, participants will receive a free Dogfish Head beer, while supplies last.
For two Ireland-born sisters, the reopening of The Dearborn this month comes in time for their home country's celebrated holiday. Besides iconic Irish dishes like Fish & Chips (which Chef Aaron Cuschieri made and won with on Food Network's Beat Bobby Flay) and a Corned Beef Reuben, The Dearborn will offer specials such as Seafood Chowder, Beef & Lamb Shepherd's Pie and a Strawberry & Crème Roulade cake. Also  available Guinness on draft, Irish Whiskeys and Irish Coffee.
The Dearborn is also partnering with Vanille Patisserie for those who can't make it to the Loop but still want to celebrate with Irish fare. Throughout St. Patrick's week, order a three-course family meal featuring the Seafood Chowder, Shepherd's Pie and a special Irish Apple Cake with Shamrock Cookies from Vanille for dessert. Available through TOCK from March 10-17 for pick-up at Vanille's Lincoln Park location or at The Dearborn.
Erin go bragh
Jodie Jacobs