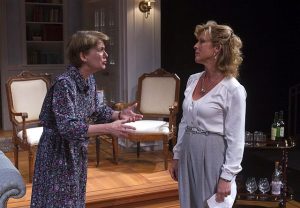 RECOMMENDED
Old-timers remember when political positions were argued during the day and set aside or amicably dealt with in tradeoffs agreed to during dinners at night.
That the convivial era's respect for each other changed to vitriolic attacks after President Carter's term and continues today is told through one politically connected Georgetown family in Anthony Giardina's 'The City of Conversation' now at Northlight Theatre.
The play takes audiences from Carter's time, through Governor Reagan's run for the White House to the Obama presidency.
The setting is the townhouse of Hester Ferris, a liberal Georgetown hostess who holds dinners or salons that bring together the right people on either side of a bill. That Georgetown is the place to be is emphasized by Hester's location across from political columnist Joseph Alsop's home where he entertained John F. Kennedy and Isaiah Berlin.
Divided more into scenes rather than acts, Giardina's tale of political climate change begins in 1979 when Ted Kennedy wants to challenge Jimmy Carter as the Democratic nominee. Hester (Lia D. Mortensen) has invited conservative Kentucky Senator George Mallonee (Tim Monsion) and wife Carolyn (Elaine Rivkin) and liberal Virginia Senator Chandler Harris (Tim Decker) to talk about a bill that would help Kennedy. BTW the married Chandler has a live-in relationship with Hester. Her widowed sister, Jean Swift (Natalie West) who helps with their political causes and everything else, also shares the home.
The first sign that the political climate may be changing is when Hester's son, Colin (Greg Matthew Anderson) and fiancée Anna Fitzgerald (Mattie Hawkinson) arrive from England a day earlier than expected. Colin is quiet but Hester notices that Anna is a conniving Eve as in "All about Eve." Colin who protested Vietnam surprises his mother by joining Anna in adopting the then Republican Governor, Ronald Reagan's conservative philosophy.
The next period is 1987 when Hester attempts to stop the ultra conservative Robert Bork nominated by President Reagan, from being confirmed as Associate Justice to the  Supreme Court.
Giardina has her quoting Democratic Senator Ted Kennedy's TV speech: "Robert Bork's America is a land in which women would be forced into back-alley abortions, blacks would sit at segregated lunch counters, rogue police could break down citizens' doors in midnight raids, schoolchildren could not be taught about evolution, writers and artists could be censored at the whim of the Government, and the doors of the Federal courts would be shut on the fingers of millions of citizens."
Hester's anti Bork letter or ad she wrote that is to go into newspapers, becomes the seminal dividing point in her family. When she refuses to backtrack, her son and daughter-in-law who are on the extreme right politically, won't let her see their son any more. The contentious political battle grounds that have been growing in the country have taken over Hester's family.
The third period is 2009 when President Barack Obama is inaugurated. There would have to be a spoiler alert to say what happens to the family in this scene.
Arguably the most endearing characters are Jean depicted with down-to-earth charm by Natalie West and Senator George Mallonee, interpreted with Southern gentlemanliness by Tim Monsion. Brian Keys is also excellent as Donald Logan, a friend of Hester's grandson in the last scene.
Giardina's Hester and Anna characters who take extreme political positions may divide audience responses. However, it is important to remember that their arguments reflect the political climate then and now. Their dialogue is clever but how the audience feels about them might be colored by personal positions.
Their unbending positions might come across as too sharp but Giardina is trying to present what is happening today.
Details: 'The City of Conversation' is at Northlight Theatre, 9501 Skokie Blvd, Skokie, IL 60077 in the North Shore Center for the Performing Arts. For tickets and more information call 847-673-6300 and visit Northlight.