RECOMMENDED
One of summer's finest pursuits is viewing a William Shakespeare play while reposing under the stars and sipping a smooth wine.
First Folio Theatre affords that experience with a first-rate production of the Bard of Avon's "As You Like It" on the grounds of the historic Mayslake Peabody Estate in Oak Brook.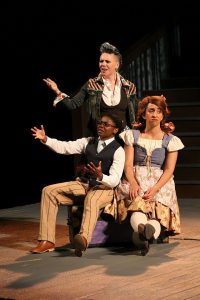 The gently rolling hillside forms a natural amphitheater for the two-story wooden stage and for audiences to spread their blankets and pop their picnic baskets.
Directed by Skyler Schrempp, this delightful tale meanders among a tangle of storylines and a large cast. The plot weaves family feuds, banishments, mistaken identities, forgiveness and love triangles.
Most everyone finds themselves exiled in the lush Forest of Arden. That is, until truths are revealed and couples happily pair up in marriage like they typically do in Shakespearean rom-coms.
The highly polished cast numbers nearly two dozen, many of them First Folio returnees and almost all with previous Shakespearean credits on their resumes.
Leslie Ann Sheppard shows great flexibility in her dual-gendered role as Rosalind. At the onset, she is a favored and stylish family member of the royal court. After she is banished, she heads to the forest and adopts a male persona for safety reasons.
She is accompanied by her cousin and best friend Celia, played adroitly by Vahishta Vafadari who takes on the guise of a peasant. The young women venture a convoluted path to find their loves.
Courtney Abbott is charming and comedic as the mohawk-crowned, androgynous jester Touchstone.
Tempering the frolic is Kevin McKillip as Jacque, a melancholic lord. With great gravitas he delivers one of Shakespeare's most well-known soliloquies, the one that begins with "All the world's a stage, and all the men and women merely players."
Costume designer Mieka van der Ploeg advances the setting as ambiguously modern-day, yet-far-away with attire that borrows from vintage, punk and club-kid cultures.
Throw in a couple of fascinators, a pair of black-and-white wingtips, and a few dirndl skirts, and you get the feeling you're somewhere else.
A summer evening at First Folio Theatre is as idyllic as the Forest of Arden. Arrive early to enjoy the natural landscape. The staff sets out citronella candles, but bring mosquito repellent.
DETAILS: "As You Like It" is at First Folio Theatre, Mayslake Peabody Estate, 1717 W. 31st St., Oak Brook, through Aug. 20. For tickets and other information, call 630-986-8067 or visit First Folio.
— Pamela Dittmer McKuen