It's not too early to check out shows that are coming in 2017-18.
Because Metropolitan Chicago is rich in theatre and entertainment choices, what is happening and where next season is divided into areas. Click northern suburbs season options for that section. City sections will be next.
First, take a look at some of the go-to possibilities west of Chicago. They are exciting enough to attract people from other areas in and around the city.
Drury Lane Theatre, Oakbrook Terrace
The Drury Lane stage will be rockin' with classics in "Rock of Ages" Aug. 24-Oct. 15, tapping the toes with "42nd Street" Oct. 26 to Jan. 7, 2018 and cheering on the hero in Andrew Lloyd Webbers's "Joseph and the Amazing Technicolor Dreamcoat" Jan. 18 – March  25.
Drury Lane Theatre is at 100 Drury Lane,  Oakbrook Terrace. For tickets and other information call (630) 530-0111 and visit Drury Lane.
First Folio, Oakbrook
First Folio mounts its shows on the grounds and in the mansion of the Mayslake Peabody Estate that is a Du Page County Forest Preserve. For the fall it is producing "The Man-Beast," a world premiere by Joseph Zettelmaier Oct. 4-Nov. 5, 2017.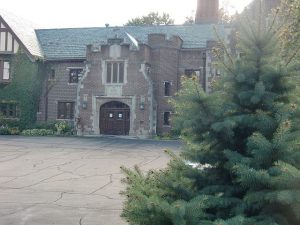 The second half of the season features "Women in Jeopardy," a Chicago premiere by Wendy MacLeod Jan. 24 – Feb. 25, "Mary's Wedding" by Stephen Massicotte Mar. 28 – Apr. 29 and "Shrew'd," a world premiere musical adopted by David Rice based on William Shakespeare's "The Taming of the Shrew," July 11-Aug. 19.
First Folio Theatre is at the Mayslake Peabody Estate, 1717 W 31st St, Oak Brook. For tickets and other information call (630) 986-8067 and visit First Folio Theatre.
Paramount, Aurora
This Aurora entertainment venue has two sides, a Broadway series and an entertainment schedule.
For the Broadway series, Paramount is doing "Million Dollar Quartet"  Sept 13-Oct 29, "Elf" Nov. 22-Jan. 7, 2018, "Cabaret" Feb. 7-Mar. 8 and "Once" April 25-June 3. For tickets and other information visit Broadway Series.
The full entertainment schedule which includes Penn & Teller and Jay Leno is at Paramount Events.
Paramount is at 23 E. Galena Boulevard, Aurora. For tickets and other information call (630) 896-6666 and visit Paramount Aurora.
McAninch Arts Center, Du Page County Community College, Glen Ellyn
The MAC, as the college's arts building is known, has an almost overwhelming number of shows on its schedule. With too many to list here, best plan is to peruse its Performance Series.
However, here are some examples: "The 39 Steps" by John Buchan is Sept. 7-Oct. 8, Olivia Newton John is Oct 14, "The Best of Broadway – Rodgers & Hammerstein and Andrew Lloyd Webber" is Oct. 21-22. The holiday show is the Chicago Festival Ballet and New Philharmonic Orchestra's "The Nutcracker" Dec. 16-17.
Then, among the 2018 shows are  Guiseppe Verdi's "La Traviata" Jan 27-28 , National Theatre's "Peter Pan" Feb. 4 and Feb. 8 and the Buffalo Theatre Ensemble's "Outside Mullingar" by John Patrick Shanley May 3-June 3.
For the full schedule information and tickets call (630) 942-4000 and visit At The MAC.  The McAninch Arts Center is at  425 Fawell Boulevard, Glen Ellyn.
Metropolis Performing Arts Center, Arlington Heights
The Metropolis, an Arlighton Heights performance center has classes but also is hosts a full theatre and entertainment schedule.
Its next season opens with "Second City – Girls Night Out" Aug. 24– Sept. 2  and continues with "Into the Woods" Sept 21-Nov. 4,  "A Christmas Carol" Nov. 29- Dec. 27, "Boeing, Boeing" Feb. 1-March 17 and "Avenue Q" May 17-June 30.
In between these shows are dance, jazz, comedy and tributes concerts. For the full schedule visit Metropolis Arts. The Metropolis Performing Arts Center is at 111 W Campbell St, Arlington Heights.
Get tickets now so you can plan ahead and save the dates.