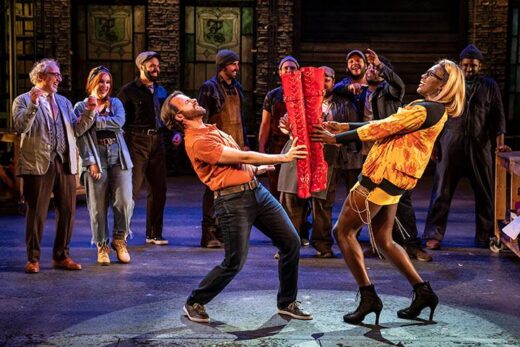 4 Stars
Nearly a year and a half after Paramount Theatre was abruptly forced to lower the curtains and dim the marquee due to COVID-19, the historic Aurora venue returns to live–and lively–performances with the regional premiere of "Kinky Boots."
Directed by associate artistic producer and casting director Trent Stork, the Paramount production opens the theater's 10th Anniversary Broadway Series season.
The feel-so-good musical, decked with high energy and loads of razzle-dazzle, is the perfect choice to lead theater-goers out of the darkness and into light and laughter. The 2013 Tony award winner for Best Musical features music and lyrics by Grammy-winner Cyndi Lauper, and a book rooted in fun, love and acceptance by Broadway legend Harvey Fierstein.
"Kinky Boots" tells the story of Charlie Price who reluctantly takes over his late father's failing shoe manufacturing company. By chance, he finds an unlikely partner in drag queen Lola, and the two learn they have more in common than they thought.
Paramount's stellar cast of 34 actors, singers and dancers seems to exude exceptional vigor. They must be thrilled to be back on stage again. They've waited a long time for this.
All eyes are on Lola played by Paramount newcomer Michael Wordly. He shows extensive range, musically and dramatically from flamboyant to melancholy.
Charlie is expertly played by Devin DeSantis whose Paramount credits include "The Little Mermaid" and "Hairspray." Wordly and DeSantis are strong soloists but their duet, "Not My Father's Son," is perhaps the most heartrending number in the show.
Another standout is Sara Reinecke playing Lauren, a factory worker who has eyes on Charlie. Her voice rings clear and powerfully, and every woman can relate to her mighty rendition of "The History of Wrong Guys."
Fun fact: Cast members learned to make shoes from the Chicago Shoe Academy to be able to realistically act like factory workers.
The dance numbers, choreographed by Isaiah Silvia-Chandley and Michael George, impart high kicks, deep splits and leaps for joy. We were happy to see each of Lola's Angels has a chance to strut her individual acrobatic moves.
The over-the-top embellishments of costume designer Ryan Park and wig, hair and makeup designer Katie Cordts are visually stunning. Their sartorial eye candy is flashy, splashy and sassy with just the right amount of trashy. Creative lighting effects by Greg Hofmann magnify the visual excitement on stage.
Also on the creative team are co-scenic designers Kevin Depinet and Christopher Rhoton. Music director Kory Danielson conducted the 12-piece Paramount Orchestra. In addition to serving as associate director, Darren Patin is a Chicago drag queen named Ari Gato.
COVID-19 safety guidelines as mandated by the State of Illinois are in place. Attendees must show proof of vaccination and photo ID. Masks must be worn throughout the building and during the performance. Covid restrictions are in place.
DETAILS: "Kinky Boots" is presented by Paramount Theatre in Aurora, 23 E. Galena Blvd., through Oct. 17, 2021. Running time: Approximately 2 hours and 30 minutes including a 15-minute intermission. For tickets and other information, call 630-896-6666 or visit www.ParamountAurora.com.
Pamela Dittmer McKuen
For more shows visit Theatre in Chicago