There isn't a beer hall or gin joint in Chicago with a piano that hasn't been visited sometime in the past 50 years by the fingers of jazz pianist and boogie master Erwin Helfer.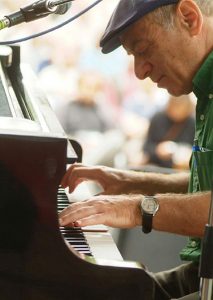 This week we caught up with him at Hungry Brain 2319 W. Belmont Ave., Chicago, where he will be appearing Tuesdays at 7 p.m. through September and possibly longer.
The venue is a clean. old-school style tavern with a mid-century vibe and a sizeable beer list. Wine lovers will find only a red and white choice. They have enough booze to whip up a cocktail if you keep it simple. Cash Only!
Sorry no food, but we skipped around the corner to "90 Miles" on Clybourn and brought back a couple of delicious Cuban sandwiches which I washed down with a Bells Brown Ale while my wife opted for a glass of the "white."
If you are a lover of straight-up classic jazz with a boogie rhythm, Erwin is "the man." He's a pianist's pianist. I know this because my wife is a pianist she has been a groupie of his for years.
Erwin has a mean left hand that can pound that bookie bass. His improvisations on the right hand are thoughtful but not showy. He is classically trained and has restraint and a love for the songs he plays.
Between the banter and reminiscences of the many legends he has known and performed with, you'll hear him play several of your favorite melodies like "Georgia on My Mind", "St. James Infirmary" and "Swanee River Blues" (a variation on "Swanee"). You'll know "Pinetop Blues" when you hear it and according to his mood you might hear some riffs on gospel standards like "Take My Hand Precious Lord" or a country tune like Hank Williams' "Jambalaya."
Erwin Helfer is one of the sweetest guys you'll ever meet. He is a gentle soul whose temperament is reflected in his music.  At 80+ he still gigs several times a week.  Seeing him wherever he is playing should be on your Chicago bucket list.
If you miss him at Hungry Brain you might check out his upcoming concert with Spanish Blues and Boogie Woogie pianist Lluís Coloma at the Old Town School of Folk Music Oct. 27, 2017 at 7 p.m.
For more information visit Erwin Helfer and Hungry Brain.
-Reno Lovison