Celebrate Chicago EXPO Week Sept 11 through Sept 17, 2017.
What is it?
The week features EXPO Chicago, a top quality, annual exhibition in Navy Pier's Festival Hall. Visitors can see what is being shown by top galleries across the world and in the U.S., Sept. 14 to Sept. 17.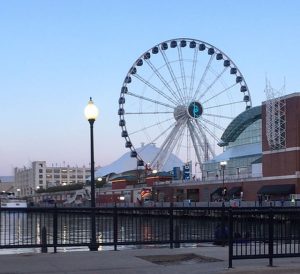 It's also a time when Chicago art galleries and institutions usually start new exhibitions. The Program site on EXPO Chicago lists several area art shows.
It's a chance for art lovers to visit galleries that will stay open past their usual hours. Many of the galleries are opening new exhibits on Sept 12 with evening receptions. Others will stay open from 6 to 9 p.m. Sept. 15. See Art After Hours on EXPO Chicago.
This year, EXPO Chicago also partially coincides with the city's Architecture Biennial which primarily fills the Chicago Cultural Center with past, present and future architectural projects and initiatives beginning Sept. 16, 2017 and continuing to Jan 7, 2018. There are also special exhibits and installations off site.
So, put on the walking shoes, save these links to the smart phone calendar and figure out where to go and when to take advantage of Art Week.
At Navy Pier
EXPO Chicago (International Exposition of Contemporary & Modern Art) at Navy Pier opens Sept. 13 with Vernissage, an evening benefit reception for the Museum of Contemporary Art Chicago. The EXPO features 135 internationally known galleries.   See tickets  for EXPO hours and admission costs. Navy Pier is at 600 E. Grand Ave.
Special Exhibitions by regional, national, and international non-profit institutions, museums, and organizations will be on the main exhibition floor of the exposition.
Around Town Exhibits that tie in with the show.
'Past Forward: Architecture and Design at the Art Institute' opens Sept. 12. Also see "Color Studies." The show also relates to the Architecture Biennial. The Art Institute of Chicago is at 11 S. Michigan Ave.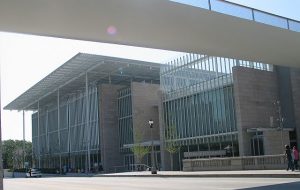 Palais de Tokyo is holding "Singing Stones," an exhibit of emerging Chicago and French artists, in The Roundhouse at Du Sable Museum of African American History, 740 E. 56th Place, Sept. 13-Oct. 29. Also at the DuSable Museum is "Chicago: A Southern Exposure," Sept. 12, 2017–Mar.  18, 2018.
Go over to the Peninsula Chicago Hotel, 108 E. Superior St. to see "What it is to be Human," an exhibit of artist/ architect Gaetano Pesce curated by Salon 94 Design that ties in with EXPO Chicago and the Chicago Architecture Biennial (Sept. 16, 2017-Jan. 7 2018). The exhibit is on the ground level lobby and 5th floor lobby, Sept. 11-Oct. 9, 2017.
The Sullivan Galleries at the School of the Art Institute, 33 S. State Street (7th floor)  is doing 'Apichatpong Weerasethakul: Serenity of Madness' Sept. 15 through Dec. 8, 2017.
The Arts Club of Chicago, 201 E. Ontario St., has an opening reception for "Roman Ondak: Man Walking Toward a Fata Morgana" Sept. 12. The exhibit goes through Dec. 9, 2017.
At the Emhurst Art Museum and Mies van der Rohe's McCormick House, 150 Cottage Hill Ave., Elmhurst, "Hebru Brantley: Forced Field"S is Sept. 9 through Nov. 26, 2017.
DuPaul Art Museum,  935 W Fullerton Chicago, features "Ângela Ferreira: Zip Zap and Zumbi" Sept. 7 through Dec. 10, 2017.
The John David Mooney Foundation, 114 W. Kinzie St., is participating in the Art After Hours with a reception Sept. 15, 2017 for an exhibition of works by modern Vietnamese Artists and particularly the paintings of Bùi Xuân Phái.
The University of Chicago's Neubauer Collegium for Culture and Society, 5701 S. Woodlawn Ave., is doing "Terence Gower — Havana Case Study," Sept. 12 – Dec. 15, 2017 in conjunction with the Architecture Biennial.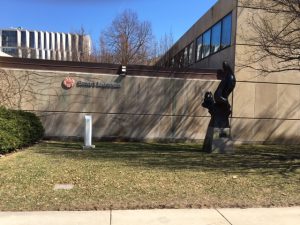 The Smart Museum of Art at the University of Chicago has several new exhibits. "Emmanuel Pratt: Radical [Re]Constructions" is Sept. 12, 2017 to the summer of 2018. "Revolution Every Day" is Sept. 14, 2017 – Jan. 14, 2018. "The Hysterical Material" is Sept. 14 – Dec. 17, 2017. The Smart Museum of Art is at 5550 S. Greenwood Ave.
"Materials Decoded" is Sept. 10, 2017 – Jan. 7, 2018 at the Hyde Park Art Center, 5020 S. Cornell Ave.
Intuit: The Center for Intuitive and Outsider Art, has an opening reception for  "Darger + War" Sept. 15. the exhibit continues through Dec. 10, 2017.
"Michael Rakowitz: Backstroke of the West" is at the Museum of Contemporary Art Chicago, Sept.16, 2017 – Mar. 4, 2018.
"Let Me Be an Object That Screams" is Sept. 8 – Oct.21, 2017 in Gallery 400 at the University of Illinois at Chicago University of Illinois in the Chicago Art and Design Hall, First Floor 400 S. Peoria St. (at Van Buren Street).
Graham Foundation Sep 14, 2017 – Jan 06, 2018
The Graham Foundation in the Madlener House, 4 W. Burton Place, is showing David Hartt's "In the Forest," a new, multi-part installation in conjunction with the Architecture Biennial.
Mary and Leigh Block Museum of Art, 40 Arts Circle Drive at Northwestern University's Evanston campus, is featuring "Carrie Mae Weems: Ritual and Revolution" with the opening reception Sept. 12. The exhibit continues through Dec. 10, 2017.
For more information visit EXPO Chicago.