Several stage productions gladden the December holiday season and there are romantic comedies perfect for February. But when it comes to October, there's usually a dearth of plays that chill the soul. Not so, this October with three classics to see.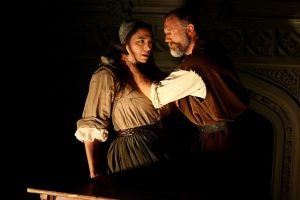 'The Crucible'
Steppenwolf Theatre Company is doing Arthur Miller's 1953 scary in a what-can-happen way when seemingly  normal neighbors believe the stories behind the Salem Witch Trials. The play is part of the Steppenwolf for Young Adults series but it really is a play for all generations. Running for only eight public performances from Oct. 4 through Oct. 21, 2017, it's a chilling reminder of how fake news can spread as if true and the harm it can do. For tickets ($20 general and $15 students) visit Steppenwolf or call (312) 335-1650. Steppenwolf Theatre Company is at 1650 N. Halsted St. Chicago.
'The Man-Beast'
First Folio Theatre at the possibly haunted Mayslake Peabody Estate, is doing the world premiere of Joseph Zettelmaier's 'The Man-Beast.' Based on a French legendary werewolf, it's the third play in his triology of 'The Gravedigger' and 'Dr. Seward's Dracula.'  The play runs from Oct. 7 through Nov. 5, 2017. Get tickets if you dare see it at First Folio or by calling (630) 986-8067.  Located in a Du Page County forest preserve, First Folio is at  31st St. and Rt. 83 in Oak Brook.
'GHOSTS & zombies'
Henrik Ibsen's "Ghosts," a drams that starts out innocently enough with a woman opening an orphanage as a tribute to her dead husband, becomes a dark comedy in the hands of writer Gustav Tegby. Translated by Chad Eric Bergman, the play takes a strange turn when the woman's estate hosts ghosts and the un-dead. The play is presented by Akvavit Theatre at the Strawdog Theatre Company now through Oct. 29, 2017. For tickets go to Chicago Nordic. Strawdog Theatre Company is at 1802 W. Berenice, Chicago.