RECOMMENDED
Thornton Wilder's classic 'Our Town,' now at Redtwist Theatre, is a slice-of-life drama that asks us to ponder our place in the universe while pausing to appreciate the seemingly mundane interactions and events that comprise the bulk of our days and which ultimately define our existence.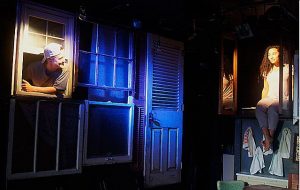 Divided into three acts with two ten minute intermissions, act one presents the town and the characters with an emphasis on birth and youth. Act two deals with love and marriage. The last act addresses the inevitable experience of death.
The story line is facilitated by a character known as the "Stage Manager" (Richard Costes) who introduces each of the other players. He fills us in on the physical attributes of the fictional Grover's Corners, NH that is supposed to remind us of our own town.
Written in 1938. The time frame is identified as roughly 1901 to 1913 but it can really be anyplace anywhere in America at any time.
The pre-WWI period harkens back to a simpler pre-industrial agrarian era that serves to remind us of the essence of living when days were marked by the rising and setting of the sun and the meals in between.
Mr. Costes is the first of the play's trifecta of winning performers. The other two are Emily Webb (Elena Victoria Feliz) and George Gibbs (Jaq Seifert) who each turned in remarkable performances.
On some level the success of "Our Town" traditionally hinges on the actors in these three major roles. But in the Redtwist production the entire cast offered tight performances. A few honorable mentions to Rebecca Gibbs (Ada Grey), Professor Willard (Rebecca Flores), Mrs. Soames (Jared Michael David Grant) and Mrs. Webb (played by understudy Jeanne Scurek)  who each stood out in some way.
This is the directorial debut of the company's Associate Artistic Director, James Fleming, who with Scenic Designer Lizzie Bracken managed an innovative visual presentation in a somewhat awkward space.
The Redtwist is a storefront theatre meaning that the dimensions are long and narrow leaving little room for a traditional proscenium stage other than a small roughly ten foot by ten foot riser at one end of the room.  The company overcomes this by creating three or four loosely defined minimalist scenic areas throughout the room.
The roughly 35 seat audience is then snuggled along the perimeter, in between, and around these spaces. This leaves the center open for the main action. So it's like a performance in-the-round with the audience on stage. The important thing is that it works.
"Color blind" casting is no longer unusual but Fleming has elevated the concept in this production by extending it to include gender neutral roles and actors with limited physical abilities.
For instance the part of milkman Howie Newsome is played by Joel Rodriguez who happens to be confined to a motorized wheelchair. Joel uses his chair brilliantly to infer the presence of his horse and milk wagon. It's not necessary nor is it overt but it works because he is simply incorporating who he is as a person into his role as an actor.
"Stage Manager" (Richard Costes) happens to be hearing impaired. But this is incidental to his performance which would be excellent under any circumstances.
He periodically uses his skill at sign language to provide us with a visual enhancement of the point he is making or a town attribute he is describing. (Note: he is not signing his entire performance but occasionally enhances the depth of his communication.)
The character of Mrs. Soames (Jared Michael David Grant) is perhaps the most gender bending role. Mr. Grant plays the part of a female character but not in drag. He wears a simple man's suit and looks perfectly male.
Though admittedly a bit confusing at first, I came to believe that Fleming wants us to put aside our role bias and expectations and simply enjoy the performance. In other words, be color blind, be gender blind, be ability blind and simply accept what each actor has to offer and accept that they are the characters they say they are.
As was pointed out by someone after the performance, "This cast represents our town."
DETAILS: 'Our Town' runs through October 29, 2017 at the Redtwist Theatre, 1044 W. Bryn Mawr, Chicago, IL 60660. For tickets call (773) 728-7529.
Guest Reviewer Reno Lovison (RenoWeb.net)