HIGHLY RECOMMENDED
Audiences are likely to be lulled into a state of boring normalcy during the first part of actor/playwright Tracy Letts' new play, 'The Minutes.'
Premiering now at Steppenwolf Theatre through Dec. 31, 2017, 'The Minutes' is a dark comedy which turns out to be a scary, unfunny, toe-dip into the troubled waters of small-town USA. The scene is a city council meeting in Big Cherry (you pick a state).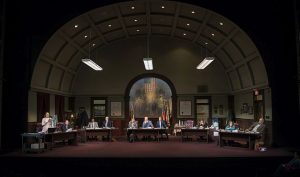 As a former reporter who has covered meetings at the city, county and school board level, I can attest that David Zinn's set design is right on as far as the seats, desks and ceiling are concerned. (The mural is an added patriotic touch).
However, you know something is wrong when the meeting is announced as closed, even though no legal reason is given such as personnel or law suit. Even if those items are only briefly mentioned during the closed session, they still should have been offered at the start of the meeting as an excuse for going into a closed session.
Apparently there was no public to complain but maybe the public in this town knows that all council meetings are held in closed session.
But then, as each council member  states an item of business, from Francis Guinan as the doddering Mr. Oldfield to Danny McCarthy as Mr. Hanratty who has drawn up plans to redo the town's fountain with a ramp for disabled visitors, the meeting appears to be routine. At least in the beginning.
One of the worms that rots the fabric of life in Big Cherry is that its founding is based on a battle that happened almost just the opposite of what is celebrated in town every year, as researched by Mr. Carp, one of the council members.
The other problem is that Carp, well portrayed by Ian Barford, also uncovered a city official's criminal action regarding the disposal of stolen bikes.
But in this small town that does not want rotten apples to upset its rosy apple cart, politics and threats make the worms disappear.
The play's title refers to the uncovering of the worms when  Cliff Chamberlain as new council member, Mr. Peel, wants to hear the minutes from the meeting he missed when he was at his mother's funeral. Those minutes reflect Carp's complaints and concerns. Peel is told by Mayor Superba, the forcefully restrained William Petersen, that the minutes have not been prepared for distribution.
All is revealed when the Ms Johnson, an honest clerk nicely interpreted by Brittany Burch, says they have been prepared.  The other council members who always go along with the Mayor are Mr. Breeing (Kevin Anderson), Mr. Blake (James Vincent Meredith)  Mrs. Matz (Sally Murphy), Ms Innwa (Penny Slusher) and Mr. Assalone (Jeff Still).
Directed by Anna D. Shapiro, the acting is superb. The problem I have with the play is that its ending feels a bit off given the town's attitude toward its heritage. Though the ending, (no spoiler alert here) delves into what may be the true nature of a group when divested of its respectable trappings, it would have been more understandable if the group circled in the dark with candles or adopted another ritual.
DETAILS: 'The Minutes' is at Steppenwolf Theatre, 1650 N Halsted St, through Dec. 31, 2017. Running time: 1 hour, 40 minutes, no intermission. For tickets and other information call 312-335-1650 or visit Steppenwolf.
Jodie Jacobs
For more shows visit TheatreinChicago.