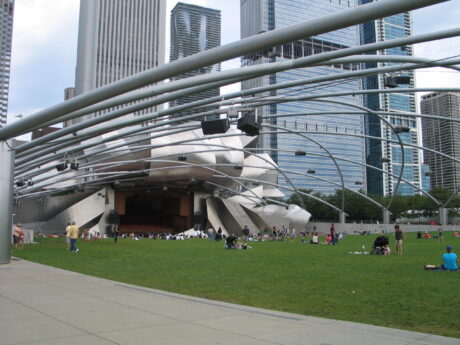 Chicago's famed Gospel , Blues and Jazz festivals won't  happen until this fall (hey, it takes time to bring back their featured performers). To see who what and when visit Chicago festivals reimagined.
But the Chicago area will still be swinging, rocking and keyboarding the classics outdoors, this summer.
Check out Aurora for rock, the Grant Park Music Festival for classics and a 4th of July salute, the Windy City Smokeout bands and Ravinia Festival for all of that from rock to pop and classics.
Aurora
Just west of Chicago, Aurora  has a terrific rock concert line up this summer. There are a few tickets left for REO Speedwagon, July 1, 8 p.m. at the River Ridge Park. Then,  on July 16 there is Tribute to Fleetwood Mac. For tickets and more concert schedule info visit Aurora Pop/Rock.
Windy City Smokeout
The popular eat, drink and good band festival takes over Parking Lot C at the United Center, 1901 W. Madison St., Chicago, July 8-11, 2021. Headliners include Dierks Bentley, Jon Pardi, Brett Eldredge and Darius Rucker. For more info visit Windy City Smokeout.
Grant Park Music Festival
Held in Millennium Park's Pritzker Pavilion, the longtime Chicago summer concert series starts  July 2-3 with a mix of crowd pleasers from John Williams' Summon the Heroes, Scott Joplin's Overture to Treemonisha and a Robert Lowden arrangement of the Armed Forces Salute to pieces from Leonard Bernstein's  West Side Story,  Tchaikovsky's 1812 Overture and John Philip Sousa's Stars and Stripes Forever. The Festival continues with such classics as Rossini's Overture to Willian Tell on July 7 and Brahms' Symphony No. 3 on July 9-10. For complete schedule and other information visit Grant Park Music Festival
Ravinia Festival
Located at the south east end of Highland Park, the historic music festival brings in world renown artists in classic, folk, pop and jazz genres, plus it is the summer home of the Chicago Symphony Orchestra.  The July schedule features  pianist Jorge Frederico Osorio playing Mozart on July 9 with Marin Alsop conducting the CSO, jazz/pop singer Kurt Elling  July 13 and Rock band Counting Crows, Aug. 19. For tickets, complete schedule and other information visit Ravinia.org.
Jodie Jacobs