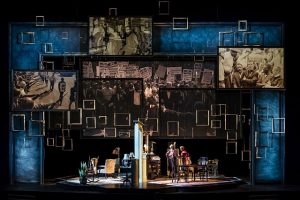 HIGHLY RECOMMENDED
Imagine living through more than 100 years of historic events and changing cultural attitudes. What would you predict might happen?
The Delany sisters, Bessie who lived to 104 (died 1995) and Sadie who lived to 109 (died 1999), thought a woman would eventually become president but not a colored man. They disliked the term black "We're not black, we're brown, we're colored." They also were OK with the formal race designation of Negro.
The sisters tell their story in "Having Our Say: The Delany Sisters' First 100 Years," playing now at Goodman Theatre.
Raised in a family of achievers (lawyers, a judge, doctor, teachers and dentists, their father was the first colored person (they also didn't like the term, African-American. "We're American" they shout) to rise to bishop status in the Episcopal Church in the US.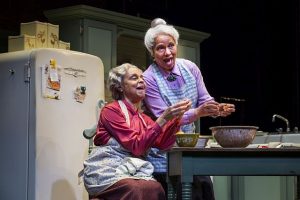 During the show, a two-character play by Emily Mann, the sisters recall their many firsts including Bessie as the first NY black woman dentist, and Sadie, the first black female home economics teacher in a NYC public high school.
But what really comes across as the two ladies reminiscence as  they page through boxes of photos and prepare meals, are the societal changes they lived through including Jim Crow laws and their deep love for their parents and each other.
Bessie, a staunch protestor against racial injustice is played with great gusto by Ella Joyce. Sadie, the more demur, sweet ("Life is short. It's up to you to make it sweet," she says) sister, is charmingly interpreted by Marie Thomas.
The sisters address the audience as guests in their home in Mt. Vernon, NY where they moved from Harlem in 1957. As each photo is taken from a box, it is projected onto one of many picture frames spaced above them so they can share the person or event with you, their visitors.
Mike Tutaj's projection design brings you closer to the sisters and their lives. Linda Buchanan's excellent set design has them talking to you in their living room for part of the play and moves to reveal their kitchen/dining space for another segment. Birgit Rattenborg's costumes feel right for the women's ages.
Adapted by Mann from the book written by the Delaney sisters with Amy Hill Hearth, the play offers terrific insight into bits of the 20th century from a viewpoint seldom heard or viewed. I'm glad the Delaney sisters are having their say.
DETAILS:"Having Our Say: The Delany Sisters' First 100 Years," is at Goodman Theatre, 170 N. Dearborn St., Chicago, through June 10, 2018. Running time:  2 hours, including one intermission. For tickets and other information call (312) 443-3800 or visit Goodman Theatre.
Jodie Jacobs
For more shows visit Theatre in Chicago