RECOMMENDED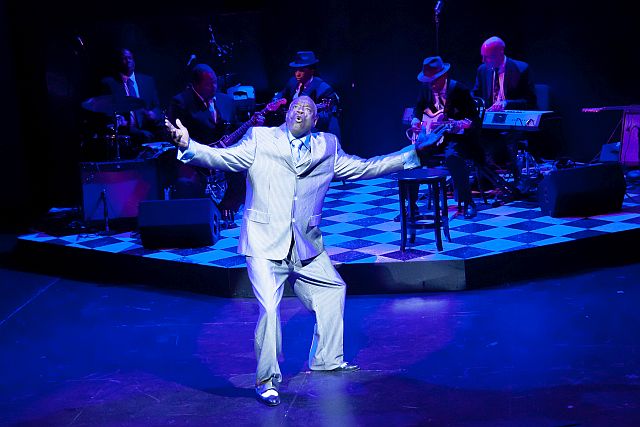 "Rick Stone The Blues Man" at the Black Ensemble Theater is a nightclub style jukebox musical written and directed by Jackie Taylor that stars Rick Stone himself and a cadre of six seasoned blues singers backed up by an awesome house band.
The songs are classic blues led by the very talented BET musical director Robert Reddrick on drums who is joined by "young" Adam Sherrod (Keyboards), Gary Baker (Guitar) and Mark Miller (Bass).  Lamont D. Harris (Harmonica) is considered part of the vocal ensemble but holds his own adding his "blues harp" accompaniment to many of the tunes.
This production works hard to make you feel like you just happened to stroll into a vintage blues club. The cast wanders in, casually greeting individuals along the way. Ushers greet everyone by saying, "Welcome to Rick's." The stage has a small bar and few tables and chairs which incidentally are available to audience members as V.I.P. seating.
Rick Stone acts as M.C. sharing bits of his own life story and helping to move along the action which centers around the life drama of some of the club's "regulars" including  Kelvin Davis who offers a little comic relief and drama to the story-line.
Stone's the real deal. His foggy Velcro basso (a little bit smooth and a little bit rough) compliments his playful and charming demeanor as he hits us with, "Howlin' for My Baby," "Down Home Blues" and "I'll Play the Blues for You" while also picking up the action with the opening number "Turn Back the Hands of Time" and the finale "Let the Good Times Roll."
In the plot-line Rick's good friend, Dwight Neal, has an eye for the young ladies though his current relationship is complicated by the fact that he is married.
The premise is an opportunity to launch into Mud Morganfield's "19 Years Old" and later, "Ain't No Love in the Heart of the City."
Chanteuse Rhonda Preston lets her presence be known by singing "You Can Have My Husband" and later with "Three, Six Nine Blues" based on her lottery picks, followed by the soulful "Misty Blue."
The youngster, Theo Huff, is old-school R&B with "I've Been Loving You Too Long," "Just Enuff Rope, and "Members Only." He also sneaks in a plug for his own CD "The Beginning."
Cynthia F. Carter raises the volume utilizing her ample talent to summon her inner Koko Taylor with blues standards like "Wang Dang Doodle," "Wild Wild Woman" and "Got My Mojo Working."
Towards the end, Rick and Dwight do a sweet duet, "Stay Around a Little Longer," as they reminisce about their long friendship and the good and bad times they've endured.
These are just some of the thirty-three songs that make up the two-act set-list you'll enjoy in this cabaret production with 15 minute intermission.
DETAILS: "Rick Stone The Blues Man" at Black Ensemble Theater Cultural Center,  4450 N. Clark Street, Chicago, runs through Aug. 26, 2018.  For tickets and other information call  (773) 769-4451 or visit Black Ensemble.
Reno Lovison
For more shows visit Theatre in Chicago