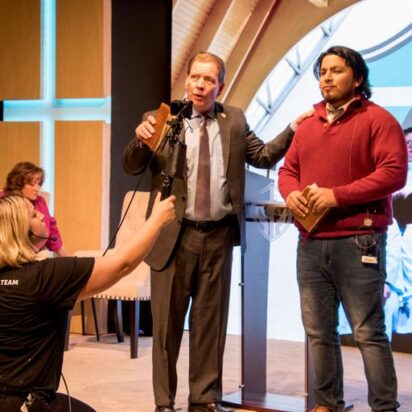 4 Stars
No matter what the religion espoused at home, "The Christians," an Obie Award winning drama by Lucas Hnath, is bound to provoke discussion on the way home.
A remarkable production in both acting and set design, the play does not advocate a specific organized religion but raises theological questions about heaven, hell, G..d, the bible, sin and why members attend – all in an approximately 80 minutes of action and debate.
The setting is primarily Pastor Paul's mega-church, enhanced by Pangaea Technology's grid of 90 two-foot-square, state of the art digital video monitors to crate the church's large interior. Also creating the right look are Intelligent Lighting Creations, BI (background Images), cinematographer Ian Merrin and scenic designer Johnathan Berg-Einhorn.
Audience members immediately become part of the congregation as Pastor Paul, played by Scott Phelps, walks in through the same door they used to enter, and welcomes the people he passes to the service.
Phelps then proceeds to mesmerize the audience with the first part of Hnath's viewpoints in his sermon followed by theological disagreements argued by Associate Pastor Joshua, well portrayed Manny Sevilla.
Adding to the interplay are temperate thoughts from Church Elder Jay, quietly presented by actor Frank Nall, and agitated disagreement from Pastor Paul's wife, Elizabeth, played by Scott Phelps wife, Ellen Phelps. (Both the Phelps are also production managers.)
 In addition, Jenny, a congregant played with just the right emotional intensity by Abby Chafe, relays the problems she is facing from people who agree with the now former Pastor Joshua.
Members of Forte Chicago singers are in the choir who seem to be seated behind a screen at the back of the stage.
Tying it all together to create an atmosphere about to explode atmosphere is Director Scott Westerman who explains in the program how important the particular technical aspects used by Citadel are to a production on stage in the age of Zoom and selfies.
His note also raises meaningful questions about being good and doing good, rightness and righteousness and the source of people's beliefs.  
Hnath certainly deserves the Obie and Citadel and its excellent actors and crew deserve the standing ovation they received opening night.
Details: "The Christians" is at Citadel Theatre, 300 S. Waukegan Rd., Lake Forest, IL, now through March 12, 2023.
For tickets and more information visit Citadel Theatre. 
Jodie Jacobs
For more shows visit Theatre in Chicago