HIGHLY RECOMMENDED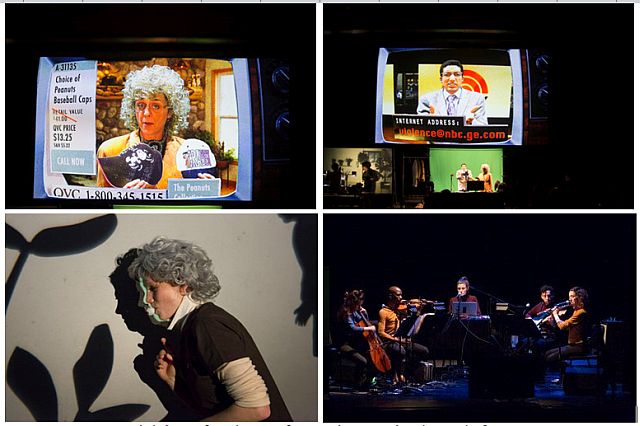 It seems fitting that The Chopin Theater which began as a local movie house and evolved into a live theater venue, should play host to "The End of TV," a combination of live action and multimedia that comments so poignantly on the blurred reality between television and human interaction.
Simply speaking, the story-line centers around a chance encounter between a laid-off autoworker turned meals-on-wheels driver, Louise, (Aneisa Hicks) and a QVC home shopping obsessed elderly woman, Flo (Kara Davidson).
The time is the 1990s. The place is a post-industrial Rust Belt city. The action takes place amid advertising promises and commercial bombardment.
In the larger sense it is about isolation and the need for human connection.
The genius of this production is that it is performed using a combination of live action, shadow puppetry and video to create a sophisticated visual effect that seems more like a dream that is both real and unreal, and at the same time distinct and indistinct.
The dreamlike illusion is further enhanced by an evocative original R&B inspired musical score composed by Ben Kauffman and Kyle Vegter.
It is brilliantly performed by seven outstandingly talented and versatile musicians: Shalynn Brown aka RED (drums), Maren Celest (vocals, live sound FX, live video mixing), Deidre Huckabay (flutes, vocals), Ben Kauffman (vocals, guitar, keyboard), Lia Kohl (cello, vocals), Marques Toliver (vocals, violin) and Kyle Vegter (bass).
The production company, Chicago-based Manual Cinema, describes itself as a "performance collective." The final production is truly a collaboration that develops through the coordinated input of its various members.
It is my understanding that the inspiration for "The End of TV" began with music by Kauffman and Vegter that they then developed into a screen play.  Julia Miller took on the awesome task of creating the story board and directing the action.
The ensemble of Kauffman, Vegter and Miller along with Lizi Breit, Drew Dir, and Sarah Fornace further adapted Miller's storyboard utilizing an assortment of high-tech and comparatively low-tech devices including an array of overhead projectors to provide the much needed light source for the shadow puppetry as well projecting the myriad transparencies and overlays that make up the backgrounds and animation effects.
The actual performance is carried out by puppeteers Kara Davidson, Aneisa Hicks, Jeffrey Paschal and Vanessa Valliere who play all of the parts in pantomime aided at times by a prerecorded voice over and employing an adept use of body language.
The small troupe moves seamlessly from task to task, changing costumes, managing animation slides, shadow puppets and live performance. The effect for the viewer is like being part of a studio audience at a teleplay or old-time radio show complete with on-stage orchestra.
Because  of the complexity of this enterprise it's important to recognize the contributions of costumes by Mieka van der Ploeg; lighting design by Claire Chrzan; lighting associate Shelbi Arndt; masks by Julia Miller; stage manager Shelby Glasgow; production manager Mike Usrey; puppet build interns Zofia Lu Ya Zhang and Kathryn Ann Shivak.
An inspired performance of an art meets multi-media entertainment extravaganza, the is probably unlike anything you might have seen before.
DETAILS: "The End of TV" is  at the Chopin Theatre, 1543 W. Division, Chicago, through Aug. 5, 2018. Running time:  75 minutes with no intermission. Tickets are available at Manual Cinema.
Reno Lovison
For more shows visit Theatre in Chicago.