RECOMMENDED
Think creative and experimental when considering the world premiere now at Chicago Dramatists. After all, how many, if any, theatrical productions have a box of stuffed animals, a marriage under duress, touching heartache peppered with clever comedy, toys that come alive as they interact with each other, eclectic music and wild dancing?
They add up to Jayme McGhan's 'Still Dance the Stars' which serves up drama but with a good helping of comedy.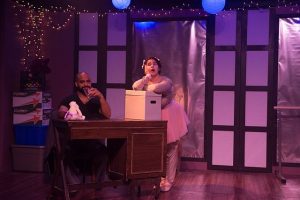 "The third time is the charm," says Anne as she recalls turning down husband Jame's first two proposals of marriage.
When he proposes to her a third time at a carnival with a little help from family, friends, music, and dancing, Anne accepts. An entertaining tape of the successful proposal goes viral on you-tube, attracting national attention along with unexpected pressures.
Fast forward six years.  Now the couple is preparing for yet another nationally-televised tell-us –about-your-bliss interview.
The timing is off, however, as their financial woes and personal loss play out across their marital battlefield.
The evening before their interview one drink leads to many others while James opens their box of stuffed animals. The toys grow to human size and proceed to both challenge and comfort the marriage as they begin to resemble family members.
Soon, a fantastical menagerie is stealing the stage: a child as a hippo, the mother-in-law as a giraffe, the father-in-law as a crocodile, a boyfriend as a potato, and others.
The heartache that the couple has endured comes to a peak near the end of the play.  I smiled through my tears at its touching pathos and clever humor, imaginative staging and colorful characters.
I also rocked in my seat to the beat of the music and laughed at the frenzied dancing of the stuffed animals that came to life—life being the essence of 'Still Dance the Stars,' especially as celebrated when one character says to another, "You're my heart, my joy, my star!"
McGahn's wonderfully unique production is a charming and clever testimony to love and loss and is imaginatively directed by Sarah Norris.
The talented cast includes Martel Manning and Kaycee Jordan of Chicago, Bethany Geraghty, Courtney Knysch, Claudia Campbell, Michael Aguirre, Carl Jaynes, and Dana Martin of NYC and Ariana Sepulveda, Philadelphia.
DETAILS: 'Still Dance the Stars' is at Chicago Dramatists, 1105 W. Chicago Ave. now through Sept. 16. For tickets visit BrownPaper.
-Francine Pappadis Friedman