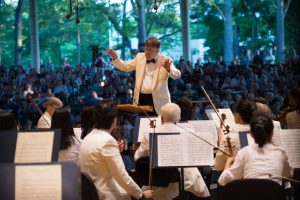 The Ravinia Festival's lawn was blanket to blanket July 16. You  would have thought the Highland Park music venue was featuring a pop star. But it was the Beethoven's popular Fifth Symphony played by the Chicago Symphony Orchestra that arguably attracted the crowds. Given the well-deserved applause, the audience in the Pavilion and out on the lawn were not disappointed.
Lyric Opera Director Andrew Davis conducted the famed Symphony No. 5 in C Minor with such enthusiasm that the audience was caught up in his joyful interpretation. Part of the piece's beauty was that Davis chose not to be bombastic but allowed more contrast. However, kudos have to also be given to the CSO's fully rounded sound, a perfect blending of brass (so important in this piece) and strings.
No less a star of the Saturday program was American cellist Alisa Weilerstein who shone in the first half with Elgar's Cello Concerto in E Minor.
She brought out all the contrasting pathos and delight of Elgar's Cello Concerto in E Minor. Her facial expressions and touch were so tender that even with the vast Ravinia audience, her interpretation felt intimate and her tonal quality was that of a master.
The evening started with Ralph Vaughan William's Fantasy on a Theme by Thomas Tallis that highlighted the CSO's string quartet, string ensemble and the full string orchestra. The piece was a well-chosen treat to set the mood for the cello masterpiece.
Classical music lovers should know that coming In August, conductor Gustavo Gimeno makes his CSO debut Aug. 2 with the Dvorak's New World Symphony and Daniil Trifonov playing Schumann's Piano Concerto in A minor.
David Zinman makes his CSO debut conducting Bernsetin's  Symphony No. 2 for piano and orchestra (Age of Anxiety) on Aug. 9 with Misha Dichter at the piano, followed by Brahms' Symphony No. 2 in D Major.
The next night, Aug. 10, Zinman conducts Brahms Symphony No. 4 and Gil Shaham playing Prokofiev's Violin Concerto No. 2.
Details: Ravinia Festival is at 200 Ravinia Rd., Highland Park, IL 60035.  For tickets and other information call 847-266-5100 and visit Ravinia.
Tip: the main lot is on Green Bay and costs $20 for pop and jazz, $10 for classical concerts, but concert goers can park for free at the Highland Park and Ravinia Metra Station lots and take a shuttle to Ravinia's north entrance.  A Metra train also stops at the west entrance to Ravinia Park during the concert season.