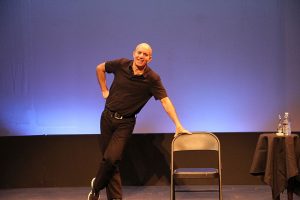 RECOMMENDED
Waiting tables becomes a comedy source in "My Son the Waiter: A Jewish Tragedy"
Brad Zimmerman, a stand-up comedian who has opened for Joan Rivers and George Carlin, regales audiences with tales of waiter-customer encounters ("Lady, is anything all right?") in his one-man show, "My Son the Waiter: A Jewish Tragedy." He also throws in a lot of Jewish-mother imposed guilt and his own lack of ambition.
Now at the North Shore Center for the Performing Arts through Aug. 7, 2016, "Waiter" is about 90 minutes of laughing at ourselves, life, and the difficulties of making it in the comedy business.
You learn that Zimmerman's mother wants him to go into the family furniture business, make a good living, marry and give her grandchildren. It is not waiting tables, which he did for more than 20 years.
Indeed, one of the gems he drops is "I was voted most likely to work for my father."
Zimmerman's idea of a career is acting. He had a bit part on "The Sopranos." That is, until he finds stand-up comedy. When he takes a comedy class his dream is to become a really famous comedian so he won't have to do just the retirement-home circuit.
The 90 minutes go quickly as he expounds on why golf in a purple shirt and matching hat is not a sport and why a football player who makes only a two-yard run looks silly celebrating with a crazy jig.
BTW, Zimmerman's fondest memories come from his sports accomplishments.
Details: "My Son the Waiter: A Jewish Tragedy" is at NorthShore Center for the Performing Arts, 9501 Skokie Blvd., Skokie, IL 60077 now through Aug. 7, 2016. For tickets and other information call 847-673-6300 and visit North Shore Center.