For a feel-good night about community-centered groups see Stories and Songs of Chicago at the Harris Theater Sept. 24, 2016 at 7:30 p.m.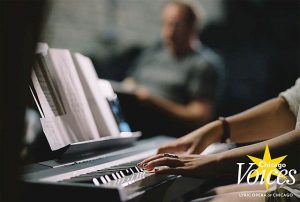 A free program arranged by Lyric Unlimited, Lyric Opera's education and community outreach arm, the event showcases musical theater productions by "Harmony, Hope & Healing," "The Kirin-Gornick Band" and "Tellin' Tales Theatre."
In A Circle of Hope, performed by "Harmony, Hope & Healing," the vignette carries the message of how music can heal even in demoralizing circumstances.
Kumovi, done by "The Kirin-Gornick Band," interprets Croatian and Serbian culture through ancestral music.
FREEDOM out of order, presented by "Tellin' Tales Theatre," is a poignant and sometimes humorous glimpse of challenges faced by people with disabilities.
After explaining their program ideas to Lyric Unlimited as part of a Chicago Voices project, the three groups received professional guidance to develop and perform their shows.
Details: The event is free but tickets are required. To obtain tickets visit Chicago Lyric. The Harris Theater for Music and Dance is at 205 E. Randolph St., (Millennium Park) Chicago, IL.